naca-rm-a7f09
Download
| File | Action |
| --- | --- |
| naca-rm-a7f09 A Summary and Analysis of Data on Dive Recovery Flaps.pdf | Download |
National Advisory Committee for Aeronautics, Research Memorandum - A Summary and Analysis of Data on Dive Recovery Flaps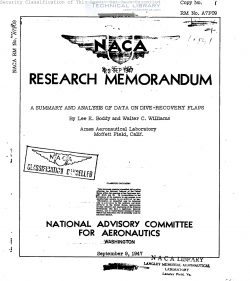 Considerable difficulty has been experienced with many
modern conventional airplanes in recovering from high—speed dives.
As a result, various corrective devices have been investigated,
the most successful of which has been the dive—recovery flap. This
device is a small split flap mounted on the lower surface of the
airplane wing. A typical installation on a wind—tunnel model is
shown in figure 1, and an experimental installation on an airplane
for flight tests is show: in figure 2.
Dive—recovery flaps were tested first in the Ames 16-foot high—
speed wind tunnel in October 191m, and were first tested in flight
by the Lockheed Aircraft Corporation from December 191+? to April 1911-3.
Subsequent flight tests were made by the Army Air Forces and the -
Republic Aviation Corporation with a Republic P—lI-T airplane and by
the Langley Memorial Aeronautical Laboratory with a North American
XP—fil airplane. Mere recently the Ames 16—foot high—speed wind
tunnel has tested dive—recovery flaps on a number of airplane models
in cenjunction with more general investigations.
It is the purpose of this report to collect all the available
data on the subject and present them in_a form which will serve as
a guide for the preliminary design of dive—recovery flaps. By
necessity, many factors pertaining largely to airplane configuration
have been ignored. Consequently, a flight—test procedure is recom—
mended. It is believed that the data presented herein, if used in
conjunction with the recommended flightrtest procedure, will facili-
tate the developement of satisfactory dive—recoveryeflap installatious
for most conventional airplanes.