DTIC-AD-P010434
Download
| File | Action |
| --- | --- |
| DTIC-AD-P010434 The Aging of Engines; An Operators Perspective.pdf | Download |
The Aging of Engines; An Operators Perspective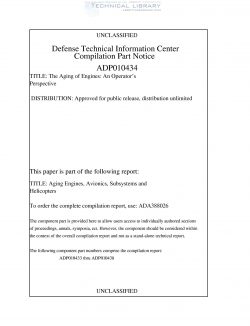 ABSTRACT 
NATO countries are currently faced with the need to 
operate fleets of mature gas turbine engines built many 
years ago. Because of diminishing resources for new 
equipment, the prospects of replacing these engines with 
new ones are not good at present. How long such engines 
can be kept in service safely, without replacing a 
significant portion of their aging structural components 
has become a growing concern to engine life-cycle 
managers, due to uncertainties in residual lives. Another 
concern is the high maintenance cost associated with the 
replacement of durability-critical components, such as 
blades and vanes. The need to balance risk and escalating 
maintenance costs explains the growing interest in the 
application of life extension technologies for safely 
extracting maximum usage out of life-limited pans. In 
the case of aero-engines, maintaining airworthiness while 
ensuring affordability is of prime concern to both life- 
cycle Inanagers and regulatory authorities. This lecture 
describes the modes of deterioration of engine 
components and discusses their effects on the 
performance, operating costs, reliability and operational 
safety of engines. It also identifies component life 
extension strategies that engine life-cycle managers may 
adopt to cost-effectively manage their engines, while 
ensuring reliability and safety. A qualification 
methodology for component life extension, developed 
and implemented for Canadian Forces engines, is 
presented. The methodology incorporates an Engine 
Repair Structural Integrity Program (ERSIP) that was 
conceived to establish structural performance 
requirements and identify tests for development and 
qualification of life extension technologies, to ensure 
structural integrity and performance throughout the 
extended life. Examples of life extension technologies 
applied to gas path components and critical rotating parts 
are described, including the use of protective coatings 
and repairs to increase component durability. The 
application of damage tolerance concepts to allow use of 
safety-critical parts beyond their conventional safe-life 
limits is also illustrated.