DSTO-TR-2898
Download
| File | Action |
| --- | --- |
| DSTO-TR-2898 Skin Friction Measurements on a Model Submarine.pdf | Download |
Skin Friction Measurements on a Model Submarine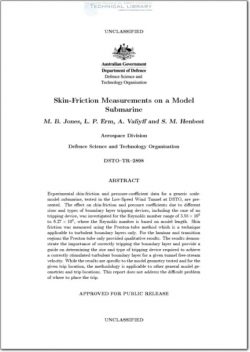 Experimental skin—friction and pressure—coefficient data for a generic scale—
model submarine, tested in the Low—Speed Wind Tunnel at DSTO, are pre—
sented. The effect on skin—friction and pressure coefficients due to different
sizes and types of boundary layer tripping devices, including the case of no
tripping device, was investigated for the Reynolds number range of 3.58 X 106
to 6.27 X 106, where the Reynolds number is based on model length. Skin
friction was measured using the Preston-tube method which is a technique
applicable to turbulent boundary layers only. For the laminar and transition
regions the Preston tube only provided qualitative results. The results demon—
strate the importance of correctly tripping the boundary layer and provide a
guide on determining the size and type of tripping device required to achieve
a correctly stimulated turbulent boundary layer for a given tunnel free—stream
velocity. While the results are specific to the model geometry tested and for the
given trip location, the methodology is applicable to other general model ge—
ometries and trip locations. This report does not address the difficult problem
of where to place the trip.
A series of experiments have been conducted in the Low—Speed Wind Tunnel at DSTO us—
ing a generic submarine model (1.35 m long) to investigate the effect of different boundary—
layer tripping devices1 on the skin—friction and pressure coefficients on the model. The
results also provide a reference data set to assist in the development and validation of
computational—fluid—dynamics codes.
The submarine model tested was in a "bare—hull" configuration aligned with the flow
direction. The skin—friction was measured using a fine Pitot tube placed on the surface of
the hull. A Pitot tube used in this way is referred to as a Preston tube and the technique
is applicable in regions where the boundary layer is in a turbulent state. For regions
where the boundary layer is laminar the Preston tube does not give quantitatively correct
skin—friction values. However, the Preston tube was found to provide a useful means of
determining the location of the laminar to turbulent transition point.