CONVAIR-RP-8926-128
Download
| File | Action |
| --- | --- |
| CONVAIR-RP-8926-128 Material - Nickel Base Alloy - Monel Metal; Countersunk Rivet Shear Strengths.pdf | Download |
Material - Nickel Base Alloy - Monel Metal; Countersunk Rivet Shear Strengths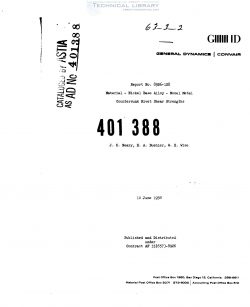 Abstract : 
ultimte and yield strength of Mlb27 Monel metal 5/32 and 3/16 inch 
diaæter rivete driven 'into various thickneeeee of 6Al-lV alloy sheet 
were determined. NVet installations In sheet thicker than 0.060 Inch 
failed by rivet Bhear. hoee åclnts which contained sheet •term of 
lees than 0.060 Inch thickneee failed by tear—out or under the 
rivet. me ultiute and yield of those rivete which failed 
in shear vere: 3/16 Inch dlaæter, 1781 and lbs. respectively; 
and 5/32 Inch diaæter, 1590 and 1985 lbs. respectively. 
Reference: Neary, J. K. , H. A. , Wise, W. E. Rivet - 
"chine %untergunk in Titanium Sheet - UltiNte 
Shear n Dynam1cB/Conva1r Report 57-651, 
Diego, California, 10 June 1958 attached).
The higher performance characteristics of modern aircraft 
necessitates aerodynamically clean skin surfaces. In the past , 
countersunk rivet Installations in thin sheet thicknesses were made 
by dimpling, a method which produced uneven skin surfaces. In an 
attempt to produce smoother skin surfaces dimpled rivet installations 
are being replaced with countersunk instafr at ions. 
Since the thin skin thicknesses now being countersunk are less 
than the minimum allowable per present installation specifications , 
allowable rivet loads are not available for structural desigi. 
QUEE: 
The object of this test is to determine the design allowable load 
Of AN 427 mmel rivets in machine countersunk titanium sheet. 
CONCLUSIms: 
Desigl ultimate shear loads for AN 427 monel rivets in machine 
cmmtersunk titanium sheet, are as follmgs:
TEST SPECIWIEN: 
Test specimens were riveted lap joints, two rivets at each joint, 
using AN 427 MC monel rivets in machine countersunk, mill annealed, 
6 Al — LV titanium sheet. Specimen dimensions and rivet spacing 
are in Table I and Figure 1 respectively. Specimens having skin 
thichess legs than the .06C minimum, per Q 2001, were countersunk 
to the depth necessary to maintain the specified countersink diameter. 
This resulted in the countersink projecting through the top and into 
the bottom sheet, greatly reducing the bearing area.