ARMY-TM-11-6625-2884-30
Download
| File | Action |
| --- | --- |
| ARMY-TM-11-6625-2884-30 Aviation Intermediate Maintenance Manual; Test Set, Countermeasures Set TS-3615-ALQ-136(V).pdf | Download |
Aviation Intermediate Maintenance Manual; Test Set, Countermeasures Set TS-3615-ALQ-136(V)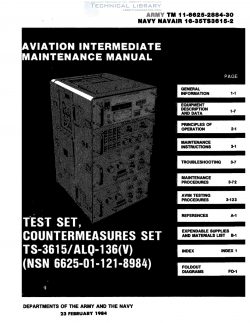 This manual tel Is you about mai ntai ni ng the TS-3615/ALQ-136(V) Bench Test Set 
(BTS) at the Avi ati on I ntermedi ate Mai ntenance (AVI M) Level. Avi ati on i nter- 
medi ate mai ntenance procedures for testi ng Countermeasures Set AN/ALQ-136(V) 1 
uti I i zi ng the BTS are described in TM-Il -5865-202-30. AVIM procedures for 
testi ng the Fl i ght Li ne Test Set (FLTS) TS-3614/ALQ-136(V) uti I i zi ng the BTS 
Rel evant cl assi fi ed i nformati on wi Il be 
are described in TM-11-6625-2885-30. 
Repai r parts and speci al tool s requi red 
found in TM-Il -5865-202-30 appendix C. 
to perform AVIM on the BTS are I i Sted in TM 11-6625-2884-20P. 
Operati ng i nstructi ons and Avi ati on Uni t Mai ntenance (AVUM) i nstructi ons for 
the TS-3615/ALQ-136(V) bench test set are described in TM-Il -6625-2884-12. The 
AVIJM manual al so contai ns the mai ntenance al I ocati on chart (MAC) . 
For your conveni ence this manual has been di vi ded i nto chapters, secti ons and 
paragraphs whi ch are numbered sequenti al I y; tabl es are numbered in the same 
Il I ustrati ons are integrated wi th the text. In addi ti on to this 
way. 
numberi ng system, a system of capti ons i n col ored pri nt hel ps you qui ckly fi nd 
the i nformati on you need. These capti ons name the equi pment and mai ntenance 
procedures that you wi I I be performi ng. 
Some of the procedures consi st of several smal ler procedures. The capti ons for 
these smal I er procedures are under the I arger ones; both appear on each page 
Each large secti on begi ns wi th a secti on contents whi ch 
as they are conti nued. 
I i Sts the procedures by ti tle and page number.