AMCP-706-361
Download
| File | Action |
| --- | --- |
| AMCP-706-361 Engineering Design Handbook - Military Vehicle.pdf | Download |
Engineering Design Handbook - Military Vehicle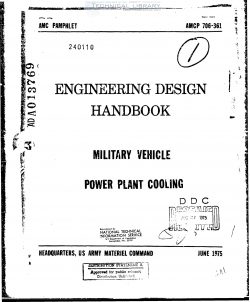 1-1 scæE 
The overall purpo* of this handbook is to 
define systematic procedures for the design 
and development of systems for 
military ground vehicles. 
ms document applies to all facilities and 
engaged in the design and develop- 
ment of cocling systems for military ground 
vehicles. 
In too many instances, military vehicle 
cooling systems have failed to perform 
satisfactorily under the severe environmental 
extremes in which they must operate. Illus. 
one purpose of this handbook is to convey to 
engineers, who may have a limited knowledge 
of the military environment, the difficult and 
rigorous conditions that are considered 
normal military operating conditions. Two 
further purposes are: 
l. TO present records of previous design 
experience to forestall duplicatic,n of past 
efforts 
2. To preserve unique technical knowledge 
which might otherwise be lost. 
A successful cooling system design is not 
determined by the *lection of individual 
parts and Rather it is the result 
Of careful analysis Of the operational require-
melds, peculiar system installation problems, 
and the integration of the cooling system into 
the complete vehicle. Only when the effects 
of all related vehicle systems are considered 
can a successful cooling system design be 
created. 
The military Vehicle fleet, which may be 
the largest vehicle fleet in the world, 
represents an unusual mix of vehicles 
developed to an unusual set of design 
requirements.
Designers of military equipment always will 
be faced with multiple choices of hardware — 
choices that range from complete vehicles to 
small individual components. The deÅgner 
must choose an innovative military design, 
off-the-shelf commercial design, or a milita- 
rized version of a commercial design. In wrne 
areas the choice is clear. There are no 
commercial equivalents of such heavy ar- 
mored vehicles as tanks, assault vehicles, and 
gun-motor carriages. However, these vehicles 
represent Only a small percentage of the total 
military fleet. By necessity then. these types 
Of vehicles always will require a purely 
military design and development approach 
Ref. 4).