You can read the original post here.
There is customer service and then there is Microsoft customer service.
Following on from the inability of Microsoft to transfer an Office 365 account between countries I received an email notice from Microsoft regarding the old and now delinquent account. This is the account that we had let slide into delinquency because Microsoft do not allow a transition between countries once an Office 365 account has been created: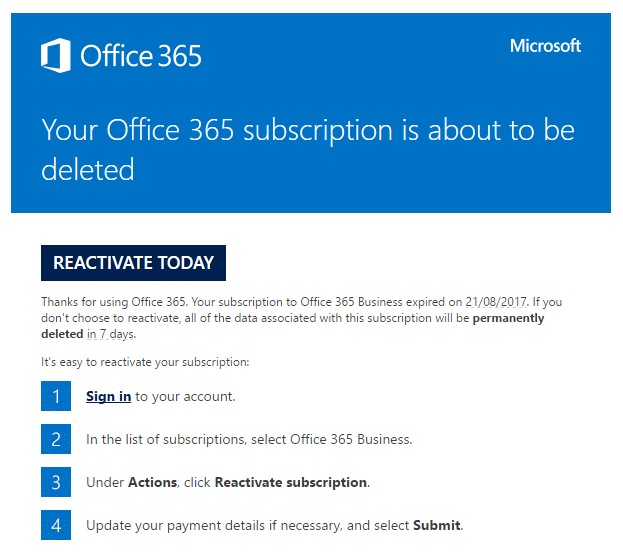 Those of you with keen vision will notice that our subscription is noted to have expired on the 21 August 2017 (the date of writing is 10 March 2017) – more than 5 months in the future.
*Sigh*
I have to trust these people with not only my credit card details but also trust in the mathematical accuracy of their products. We use Microsoft Excel for a lot of analysis work. I know that the application coding is done by a completely different team than the subscriptions and billing. The same management team and executive select and govern both teams and these errors reduce confidence in the overall competency of the systems used and the people who administer them.
I know there is no point raising this issue with Microsoft (it would take several hours trekking through the customer service swamp to get to the right department). Maybe someone in the customer service department will view this post and start the decades-long process of proposing a program to address the forming of a committee to administer the process of creating a specification to outline the resources to identify the parameters required to formulate a proposal  to address the forming of a committee to administer the process of ……… you get the idea.
This post originally appeared in the Abbott Aerospace March 2017 Newsletter. Click here to Subscribe