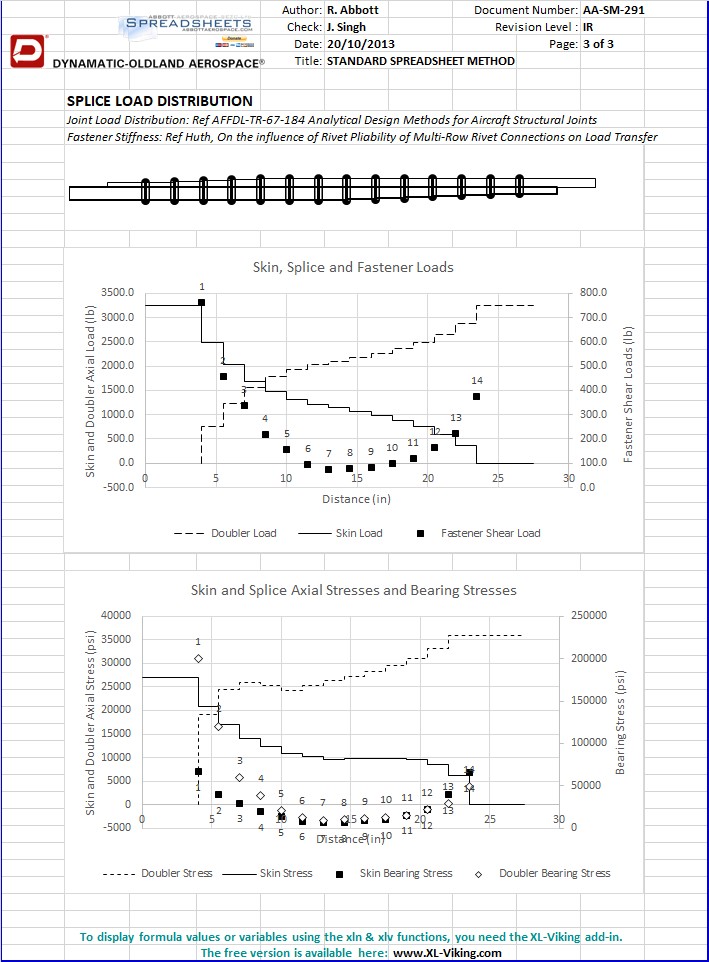 A version of this article first appeared in the June 2019 edition of our free newsletter, to subscribe click here
We have some new spreadsheets to release. We have been working with the Indian multinational Dynamatic-Oldland Aerospace. Part of the work we have been doing is to develop some in house stress analysis methods for them.
We have developed two spreadsheets for them which are unique and Dynamatic-Oldland have graciously allowed us to release them on our website for free as a collaboration between Abbott Aerospace and Dynamatic-Oldland.
These two spreadsheets use the same method to develop load distributions for bolts in lap shear joints or bolted doublers.
The paper the method is based on (AFFDL-TR-67-184 Analytical Design Methods for Aircraft Structural Joints) is co-authored by W.F. McCoombs who also wrote the best parts of Bruhn and the supplement to Bruhn. The method has the same grace and simplicity as the rest of McCoombs work.
The spreadsheets use a little visual basic routine to force the re-run of the iterative solver each time any cell is changed. This means that these spreadsheets are more sensitive to changing and adapting them to your own format. This limitation is a small price to pay for the functionality they offer.
You can download them here:
Enjoy! (Courtesy of Dynamatic-Oldland Aerospace)