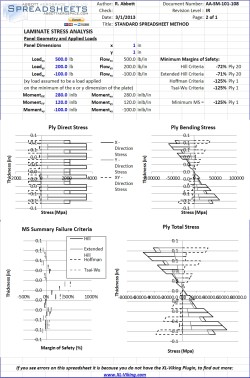 We have been checking and up loading our latest set of free composite analysis spreadsheets to our website. These include basic laminate material properties derivation (ABD Matrix), laminate envelope strain analysis and lamina stress analysis methods.
The set of laminate analysis sheets uploaded so far can be found HERE
We have also updated our un-cored laminate panel buckling set of spreadsheets, I am much happier with these than the previous methods we had used. The subset of laminate buckling analysis sheets can be found HERE 
In total we have uploaded over 100 free analysis spreadsheets to the new website and are working on getting another 100 more ready to upload over the next few weeks. You can browse all of our free spreadsheets HERE
We love that we are able to make all of the library materials available for free. If you want to help us continue to expand our work please make a donation using the button at the top of this page.
---

To try our free Stress Analysis Engineering Spreadsheets click below

To try our Add-in for Microsoft Excel for Windows click below