Estimation of Material Shape Factor in the Plastic Range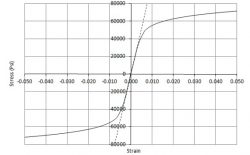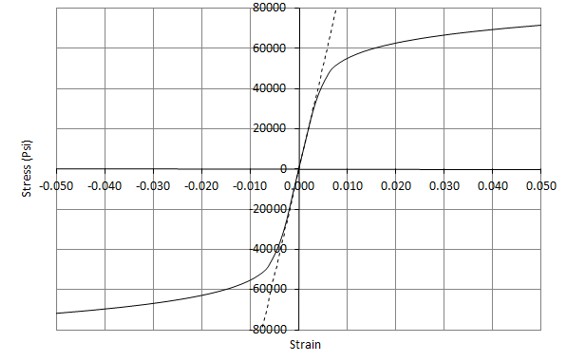 January 19, 2017
This method is taken from our free textbook "Analysis and Design of Composite & Metallic Flight Vehicle Structures"
The Ramberg-Osgood Stress-Strain Curve Shape Factor in the yielding region (NACA-TN-902, 1943) can be found for most common ductile materials from  (MIL-HNDBK-5H, 1998). A more easily used adaption of the Ramberg-Osgood stress-strain curve is given in (NACA-TN-927, 1944):

This caveat is given in (MIL-HNDBK-5H, 1998) with regard to the Ramberg-Osgood approximation:
"While this relationship may not be exact, it is sufficiently accurate for use up to the yield strength for many materials, but cannot be employed to compute full-range stress-strain curves."
(MIL-HNDBK-5H, 1998) does give a method for computing the shape factor in the plastic range of the stress-strain curve: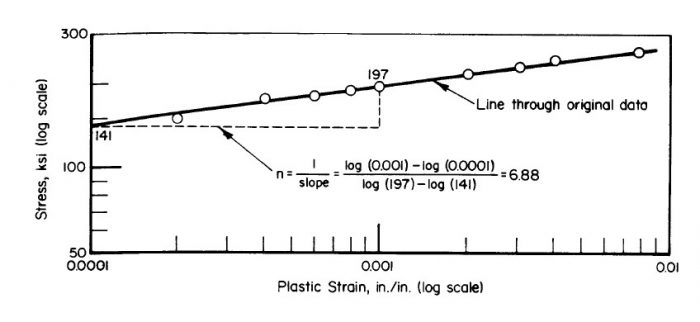 Using the law of natural logs over the full plastic range of the curve the expression for 'n' can be expressed as: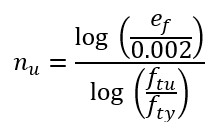 This shape factor can be used to change the shape of the curve above the material yield stress to make the curve more representative of the actual material behavior.
The enhancement to the Ramberg-Osgood methods is used in our full range material data curve spreadsheet.