Stratos 714 Launch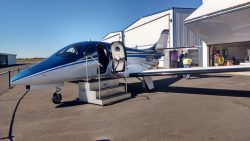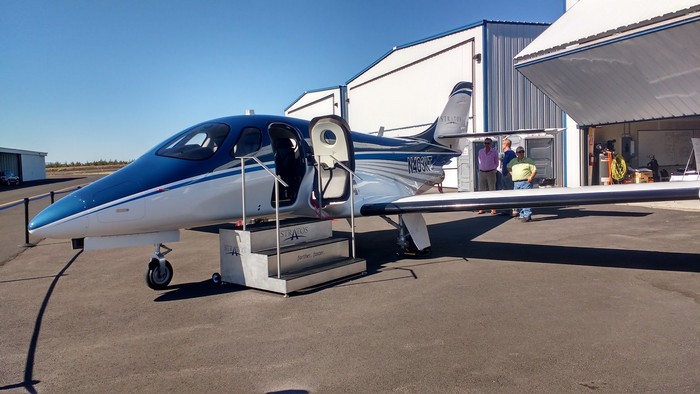 July 14, 2017
On the evening of Tuesday, the 11th July 2017 in their hangar at Redmond Airport, Stratos held the official public unveiling of the Stratos 714 Jet. The 714 Jet is the only VLJ single that can fly at 41000ft. It has the best performance of any VLJ Single. The 714 can carry 4 people 1500nm and 6 people for 1200nm at 400knots in cabin class comfort.
Stratos started nearly 10 years ago at the height of the VLJ boom and they have been quietly working away in their Redmond, Oregon facility. I have been involved advising the program since 2009 and I have been honored to serve as the structures manager for the last 5 years. I also worked as the senior structure engineer on the Diamond aircraft D-Jet Program and also worked on the Piper-Jet program. For me, after many years working on VLJ single projects, it is a great personal pleasure to finally see an aircraft that fulfills the promise of a true high-performance personal jet.
The aircraft is optimized for 3 roles – business travel, personal travel, and the air taxi market. The economics of the aircraft are excellent (both acquisition and operation) and the look of the aircraft put it in a class of its own.
The aircraft is remarkable, but that is only possible because of the team behind it. The small team that Carsten Sundin has put together has achieved great things, very quietly and efficiently. This year Stratos will be flying the aircraft into Oshkosh and I expect that it will steal the show.
Abbott Aerospace has done all of the structures analysis and helped govern the structures substantiation program since the start of the program. We have used FEMAP/NxNASTRAN for linear static and buckling solutions and achieved excellent correlation between analysis and test. Many thanks to our stress engineer Nirav Shukla who has done a large amount of the analysis work over the last 4 years. The landing gear analysis has been done by Endeavor Analysis and all of the structures testing has been done in house by the team at Stratos.
If you are at Oshkosh this year stop by their booth, enjoy the aircraft exterior and interior and say hello to Carsten and the team. They will be happy to see you.
Richard Abbott, July 2017.