USAAMRDL-TR-76-33
Download
| File | Action |
| --- | --- |
| USAAMRDL-TR-76-33 Rotor Blade Flapping Criteria Investigation.pdf | Download |
U.S. Army Air Mobility Research and Development Laboratory - Rotor Blade Flapping Criteria Investigation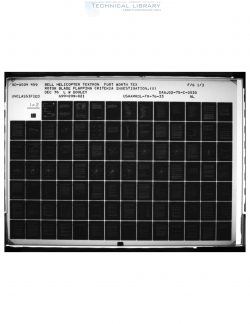 Critical operational characteristics were: 
at center of gravity 
extremes, under low or negative g conditions, with large abrupt 
control inputs, and in conditions of significant retreating 
blade stall . Operation outside recommended f light envelopes 
can cause excessive flapping. 
Helicopter characteristics in— 
fluencing flapping were: 
flapping restraint, fuselage stability 
characteristics, and helicopter loading condi t ions. 
A limit flapping criterion is defined the same as current design 
specif icaLions and should apply for all operations within the 
recommended flight envelopes of the helicopter. An ultimate 
flapping criterion is proposed for operations outside the 
recommended f light envelopes and for failure conditions. The 
ul timate flapping criterion requires no failure of primary struc— 
ture due to flapping stop contact, and no rotor blade contact 
with the fuselage for Condi t ions where probability of occurrence 
is not extremely remote.
A fundamental hel i copter design consideration is rotor blade 
Flapping clearance with the fuselage and tail rotor 
f lapp int,' . 
aro dictated by design parameters; such as mast length, fuso— 
lage layout, and rotor blade flapping stops. 
','he many possible 
in—flight and ground operations require consideration of blade 
coning and flapping motions under a wide variety of operating 
conditions. 
Current design criteria state that a minimum rotor blade to 
airframe clearance of 9 inches must be present to allow safe 
operations. 
However, with these criteria apparently satisf 
incidents caused by excessive flapping in all rotor types still 
occur in service. 
The objectives of this study were to generato a general picture 
of flapping problems by defining the primary causes of high flap— 
ping and to formulate design criteria. 
The scope of the study 
included examining the effect of both physical and operational 
characteristics of three mission types of helicopters with four 
rotor systems and identifying differences in flapping charac— 
teristics.