NASA-STD-0005
Download
| File | Action |
| --- | --- |
| NASA-STD-0005 NASA Configuration Management (CM) Standard.pdf | Download |
NASA Configuration Management (CM) Standard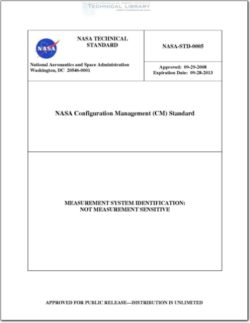 This Standard provides a consistent and systematic method for configuration management of
products delivered to or produced by the Agency under configuration control to (a) identify the
configuration of a product at various points in time; (b) systematically control changes to the
configuration of the product; (c) maintain the integrity and traceability of the configuration of the
product throughout its life; and (d) preserve the records of the product configuration throughout its
life cycle, properly dispositioning the records. NASA CM requirements originate in NPR 7123.1,
NASA Systems Engineering Processes and Requirements. This standard addresses the planning
and implementation of the following basic CM functions based on BIA-649A, National Consensus
Standard for Configuration Management principles. These functions are described as: CM
planning, configuration identification (including interface management), configuration control,
configuration accounting (including configuration traceability), and configuration verification and
audits.
This standard applies to NASA Headquarters and NASA Centers, including component Facilities
and the Jet Propulsion Laboratory, and contractors/ service providers to the extent specified in their
contracts with NASA. This standard may be cited in the CM requirements of NASA
Headquarters, NASA Centers, Programs, Projects, and Supplier contracts/agreements.
This Standard is applicable to NASA investment areas covered under NPR 7120.5, NASA Space
Flight Program and Project Management Requirements; NPR 7120.7 (Draft), NASA Information
Technology and Institutional Infrastructure Program and Project Requirements; and NPR 7120.8,
NASA Research and Technology Program and Project Management Requirements. This standard
may be applied to other NASA investments at the discretion of NASA management.