NASA-GSFC-STD-1001
Download
| File | Action |
| --- | --- |
| NASA-GSFC-STD-1001 Criteria for Flight and Flight Support Systems Lifecycle Reviews.pdf | Download |
Criteria for Flight and Flight Support Systems Lifecycle Reviews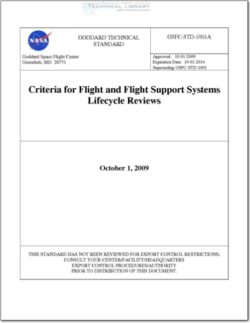 1.0 SCOPE
1.1 Purpose
The guidelines and criteria contained in this document are intended for use by the project team,
the GSFC System Review Office (SRO), the Independent Program Assessment Office (IPAO),
and the Chair of the NASA appointed Standing Review Board (SRB) in support of planning and
implementing the reviews conducted under the authority of each organization. Such reviews
range from subsystem and functional reviews to the mission-level reviews, many of which serve
as Key Decision Point (KDP) gateways. The criteria defined in this document have been
developed to encompass those specified by NPR 7123.1.
As a supplement to this document, the GSFC STD-1001- Appendix, "Lifecycle Review Success
Criteria Key Evaluation Factors", provides sample evaluation factors intended to be used in
assessing the project's achievements toward meeting the success criteria in the development of
associated system. The sample lists are organized by review type (i.e., SRR, PDR, CDR, PER,
etc.) and are a compilation of evaluation factors acquired from lesson's learned and NASA best
practices. Key evaluation factors may be tailored to suit the needs of the individual project. They
are typically provided as reference material to the project in support of review preparation and to
the independent review panels to support the conduct of the review (agenda definition, line of
questioning, etc.). The Key Evaluation Factors are not success criteria for the associated review.
1.2 Applicability
This document describes the mission and lower level element reviews (e.g., spacecraft,
instrument, ground system, operations, etc.) conducted during the development and operations
lifecycle for Goddard Space Flight Center (GSFC) managed projects, and incorporates the
requirements for:
(a) Agency—level mission reviews as prescribed by National Aeronautics and Space
Administration (NASA) Procedural Requirement (NPR) 7120.5D, "NASA Space Flight
Program and Project Management Requirements" and NPR 7123.1, "NASA Systems
Engineering Processes and Requirements",
(b) Center unique mission, flight, and flight support system reviews as prescribed by GSFC
Procedural Requirement (GPR) 8700.4, "Integrated Independent Reviews", the results of
which are flowed up to the Agency level reviews that are conducted in support of the
Agency level mission reviews at a lower level.
The Project/Product Manager should use this guide when preparing the Systems Review Plan
(SRP) for conducting a comprehensive set of mission, spacecraft, instrument and ground system
reviews as required by Agency and GSFC review process documents. In collaboration with the
Systems Review Manager (SRM), the IPAO appointed Review Manager (RM) and SRB Chair
should use this document to assess compliance with unique Agency requirements and to prepare
the Terms of Reference (ToR) that documents the charter of the SRB.