NASA DC8
Download
| File | Action |
| --- | --- |
| NASA DC8 Airborne Laboratory Experimenter_Handbook.pdf | Download |
Airborne Laboratory Experimenter Handbook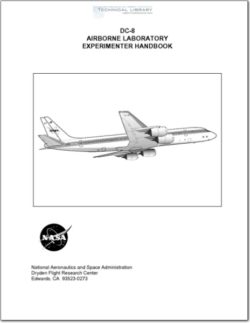 INTRODUCTION
Since August 1987, NASA has been operating A Douglas DC-8-72 Aircraft (NASA 817)
for research activities in earth, atmospheric, and space sciences. This aircraft, exten-
sively modified as a flying laboratory, is based at Dryden Flight Research Center
(DFRC), Edwards, California. It is operated for the benefit of researchers whose propos-
als have been previously approved by NASA Headquarters. Airborne laboratory flights
may be operated out of DFRC or from deployment sites worldwide, according to the
research requirements.
The DC-8 is a four-engine jet aircraft with a range in excess of 5,000 nmi (9,200 km), a
ceiling of 41 ,000 ft (12,500 m), and an experiment payload of 30,000 lb (13,600 kg). Utili-
zation is planned to be 350 to 500 flight hours per year. Special viewports, power sys-
tems, and instruments have been installed in the aircraft to support a wide range of
research programs.
Airborne research missions for the DC-8 are planned, implemented, and managed by the
Airborne Science Directorate at DFRC. A designated mission manager is responsible for
all phases of an assigned mission and is the official point of contact for experimenters as
well as for ground support and flight operations groups. The mission manager leads a
core team, specific to each mission, consisting of him/herself, an operations engineer, a
project pilot, and the contract maintenance lead. This team makes all significant deci-
sions regarding mission aircraft operations. The mission manager also functions as the
onboard mission director during flight phases of the mission. The mission director coordi-
nates and monitors science and operations activities on the aircraft during flights.
The purpose of this handbook is to acquaint prospective DC-8 researchers with the air-
craft and its capabilities. The handbook also contains procedures for obtaining approval
to fly experiments, outlines requirements for equipment design and installation, and iden-
tifies the personnel and facilities that are available at DFRC for supporting research
activities in the DC-8 airborne laboratory. This handbook is managed and revised from
time to time by the DFRC Airborne Science Directorate. Therefore, before arranging for
experiments it is advisable to review the web site listed below, then contact the DFRC
Airborne Science Directorate or your assigned mission manager for a current issue.