NASA-CR-172405
Download
| File | Action |
| --- | --- |
| NASA-CR-172405 A Study of the Utilization of Advanced Composites in Fuselage Structures of Commercial Aircraft.pdf | Download |
A Study of the Utilization of Advanced Composites in Fuselage Structures of Commercial Aircraft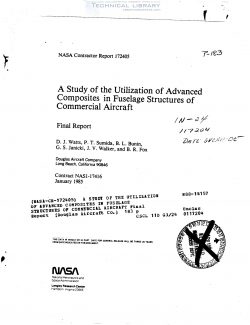 The NASA Aircraft Energy Efficiency (ACEE) composites program has provided the aircraft manufac-
turer, the FAA, and the airlines with the experience and confidence needed for extensive use of com-
posites in secondary and medium primary structure in future transport aircraft. Secondary and control
surface structures made of composites are already in airline service on a production basis, and composite
medium primary structures have been introduced for flight service evaluation. Studies to determine the
requirements to achieve technological readiness for composite primary wing structures have already
been completed under the ACEE wing studies program (References 1 to 3) and key technology issues are
currently being addressed under separate contracts.
The composite fuselage structure has significantly different design criteria and structural features from
composite wing structures. The wing study findings do not necessarily apply with respect to weight sav-
ings, cost, and the programmatic and technical issues involved. The fuselage comprises about 33 percent
of the structural weight of a transport aircraft, and weight savings of 25 percent would result in signifi-
cant benefits in some or all of the following: specific fuel consumption, range, landing field distance.
and increased payload.
The objectives of the composite fuselage study are to (1) define the technology and data needed to sup-
port an aircraft manu facturer's commitment to utilize composite fuselage structure in future large trans-
port aircraft, and to (2) develop plans for a composite fuselage development program which will supply
the needed technology and data. Without the data and a demonstrated technological readiness, com-
mercial and military aircraft operators would be unlikely to accept composite structure for the fuselage.
Two factors strongly influence the amount of technology and data that will be needed to support a com-
mitment to composite fuselage structure.
Technology for the design and manufacture of conventional fuselage structure has been developed
over the past 50 years by a large industry which has invested heavily in test programs, facilities, and
equipment, and is supported by the service experience of thousands of aircraft. Regulations have
evolved that demand the high level of safety provided by these structures. It is understood that
composite fuselage structures will, indeed, require a high level of technology and a proven data
base to compete with this mature technology.