NASA-CEH-APP-A
Download
| File | Action |
| --- | --- |
| NASA-CEH-APP-A Appendix A; Cost Analysis Data Requirement (CADRe) and One NASA Cost Engineering (ONCE) Portal Overview.pdf | Download |
Appendix A; Cost Analysis Data Requirement (CADRe) and One NASA Cost Engineering (ONCE) Portal Overview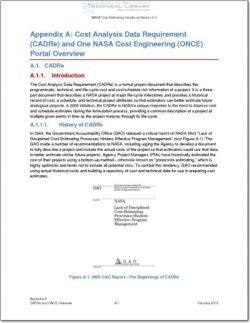 Appendix A: Cost Analysis Data Requirement
(CADRe) and One NASA Cost Engineering (ONCE)
Portal Overview
A.1. CADRe
A.1.1. Introduction
The Cost Analysis Data Requirement (CADRe) is a formal project document that describes the
programmatic, technical, and life-cycle cost and cost/schedule risk information of a project. It is a three-
part document that describes a NASA project at major life-cycle milestones and provides a historical
record of cost, a schedule, and technical project attributes so that estimators can better estimate future
analogous projects. A 2005 initiative, the CADRe is NASA's unique response to the need to improve cost
and schedule estimates during the formulation process, providing a common description of a project at
multiple given points in time as the project matures through its life-cycle.
A.1.1.1. History of CADRe
In 2004, the Government Accountability Office (GAO) released a critical report on NASA titled "Lack of
Disciplined Cost-Estimating Processes Hinders Effective Program Management" (see Figure A-1). The
GAO made a number of recommendations to NASA, including urging the Agency to develop a document
to fully describe a project and include the actual costs of the project so that estimators could use that data
to better estimate similar future projects. Agency Project Managers (PMs) have historically estimated the
cost of their projects using a bottom—up method—otherwise known as "grassroots estimating," which is
highly optimistic and tends not to include all potential risks. To combat this tendency, GAO recommended
using actual historical costs and building a repository of cost and technical data for use in preparing cost
estimates.
In response, the Agency agreed (in line with the GAO recommendations) that all major space projects
would develop what is now known as a CADRe. The CADRe would serve as a formal means to capture
and archive cost, technical, and programmatic data for use in estimating future NASA projects. Unique
templates for each part of the CADRe (A, B, and C) were developed to standardize the development of
the document across all of NASA's flight projects. The CADRe document was formally established in
7120.5C, which was a new policy and directive to implement CADRes across all of NASA. The CADRe
requirement was further documented in 7120.5D and 7120.5E. With the requirements framework in place,
the Cost Analysis Division (CAD) began implementing CADRe on current missions as well as preparing
CADRes for many historical missions.