NASA-541-PG-8072-1-2B
Download
| File | Action |
| --- | --- |
| NASA-541-PG-8072-1-2B Goddard Space Flight Center Fastener Integrity Requirements.pdf | Download |
Goddard Space Flight Center Fastener Integrity Requirements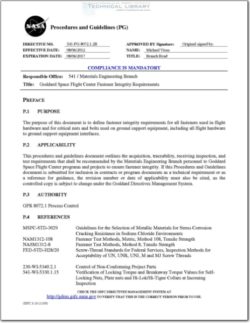 PREFACE
P.1 PURPOSE
The purpose Of this document is to define fastener integrity requirements for all fasteners used in flight
hardware and for critical nuts and bolts used on ground support equipment, including all flight hardware
to ground support equipment interfaces.
P.2 APPLICABILITY
This procedures and guidelines document outlines the acquisition, traceability, receiving inspection, and
test requirements that shall be recommended by the Materials Engineering Branch personnel to Goddard
Space Flight Center programs and projects tO ensure fastener integrity. If this Procedures and Guidelines
document is submitted for inclusion in contracts or program documents as a technical requirement or as
a reference for guidance, the revision number or date Of applicability must also be cited, as the
controlled copy is subject to change under the Goddard Directives Management System.
P.3 AUTHORITY
GPR 8072.1 Process Control
P.4 REFERENCES
MSFC-STD-3029 Guidelines for the Selection of Metallic Materials for Stress Corrosion
Cracking Resistance in Sodium Chloride Environments
NAM1312-108 Fastener Test Methods, Metric, Method 108, Tensile Strength
NASM1312—8 Fastener Test Methods, Method 8, Tensile Strength
FED-STD-H28/20 Screw-Thread Standards for Federal Services, Inspection Methods for
Acceptability of UN, UNR, UNJ, M and MJ Screw Threads
230—WI—5340.2.1 Control of Non-Conforming Project Parts
541-WI—5330.1.15 Verification of Locking Torque and Breakaway Torque Values for Self-
Locking Nuts, Plate nuts and Hi—LOk/Hi—Tigue Collars at Incoming
1. General
1.1 Fastener Categories
The required practices for acquisition, control, and inspection of fasteners may vary depending on the
criticality of the fastener. Fasteners shall be categorized as critical fasteners, controlled fasteners, or non—
controlled fasteners. Refer to Appendix A, Definitions, for the distinction.
Critical fasteners are inspected and tested more rigorously than other fasteners and have more stringent
requirements on supplier control because the consequences of failure of those fasteners are severe.
Critical fasteners do not only occur in flight hardware; a fastener used in ground support equipment
(GSE) in such a way that a single failure would pose a catastrophic hazard is also a critical fastener.
Any fastener used in flight hardware that is not used in a critical application is considered a controlled
fastener. In addition, fasteners used to transfer load across a flight hardware-to-GSE interface are
controlled fasteners.