naca-tn-3265
Download
| File | Action |
| --- | --- |
| naca-tn-3265 Vaporization Rates and Drag Coefficients for Isooctane Sprays in Turbulent Air Streams.pdf | Download |
National Advisory Committee for Aeronautics, Technical Notes - Vaporization Rates and Drag Coefficients for Isooctane Sprays in Turbulent Air Streams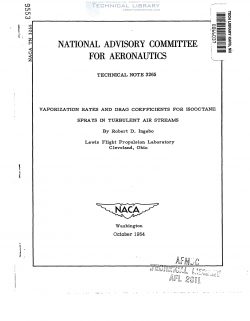 When a liquid fuel is injected into the preignition zone of a ram
Jet or a turbojet engine, or into an afterburner, the liquid is broken
up into a cloud of droplets which are then accelerated to stream veloc-
ity. While accelerating, they evaporate at a rate determined by: (l)
the air-stream velocity, temperature, and static pressure, (2) the
droplet velocity, temperature, and diameter, and (5) the physical prop—
erties of the liquid and vapor. Thus, the vaporization rate of sprays
in air streams of known temperature, pressure, and velocity may be de-
termined by use of heat-transfer equations when data on drop—size dis—
tribution, drop acceleration, and drop-surface temperature are available.
Several investigators (e.g., refs. 1 and 2) have obtained drop—
size-distribution data for the atomization of liquids in air streams.
However, the prdblem of correlating drop-size-distribution parameters
with physical characteristics of the atomization process is still un-
solved. Data have been obtained (refs. 5 and 4) for the weight percent
of fuel spray evaporated in air streams at given distances downstream
of the injector by means of a sampling technique. Since this method
did not give data on drop size and drop velocity, a correlation with
characteristics of momentum, mass, and heat transfer could not be made.
Correlations of this type have been made for single drops evaporating
in air streams (refs. 5 and 6). However, the problem of relating
vaporization rates of single drops to that of sprays has not been solved
because of the lack of spray vaporization-rate data.
In reference 7, theoretical equations are given for predicting the
vaporization rate of fuel spray based on a single mean-diameter droplet.
For simplicity, an evaporation constant, assumed to be independent of
drop size and velocity, was used. An expression valid only for either
exceedingly fine sprays or sprays which have accelerated to stream ve-
locity was obtained. If the doubtful assumption is made that evapora-
tion prior to Obtaining either of these conditions is negligible, the
equation of reference 7 may be applied directly to the evaporation of
fuel sprays in jet engines.