naca-report-518
Download
| File | Action |
| --- | --- |
| naca-report-518 The Drag of Airplane Wheels, Wheel Fairings, and Landing Gears, II - Nonretractable and Partly Retractable Landing Gears.pdf | Download |
National Advisory Committee for Aeronautics, Report - The Drag of Airplane Wheels, Wheel Fairings, and Landing Gears, II - Nonretractable and Partly Retractable Landing Gears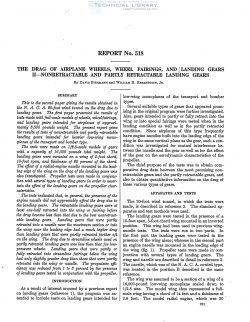 This is the second paper giving the results obtained in
the N. A. C. A. 20Joot wind tunnel on the drag due to
landing gears. The first paper presented the results of
tests made with full-scale models of wheels, wheelfairings,
and landing gears intended for airplanes of approxi-
mately 3,000 pounds weight. The present report gives
the results of tests of nonretractable and partly retractable
landing gears intended for heavier low-wing mono-
planes of the transport and bomber type.
The tests were made on 1/2.8—scale models of gears
with a capacity of 16,000 pounds total weight. The
landing gears were mounted on a wing of 5—foot chord,
15-foot span, and thickness of 20 percent of the chord.
The eject of a radial-engine nacelle mounted in the lead-
ing edge of the wing on the drag of the landing gears was
also investigated. Propeller tests were made in conjunc-
tion with several types of landing gears in order to ascer-
tain the eject of the landing gears on the propeller char-
acteristics.
The tests indicated that, in general, the presence of the
engine nacelle did not appreciably afiect the drag due to
the landing gears. The retractable landing gears were at
least one-half retracted into the wing or fairing before
the drag became less than that due to the best nonretract-
able landing gears. Landing gears that were partly
retracted into a nacelle near the maximum section or into
the wing near the leading edge had a much higher drag
than landing gears that were partly retracted farther aft
on the wing. The drag due to streamline wheels used on
partly retracted landing gears was less than that for low-
pressure wheels. Landing gears that were partly or
fully retracted into streamline fairings below the wing
had only slightly greater drag than those that were partly
retracted into the wing or nacelle. The propulsive e171:-
ciency was reduced from 1 to 3 percent by the presence
of landing gears tested in conjunction with the propeller.