ATSB-B2005-0046
Download
| File | Action |
| --- | --- |
| ATSB-B2005-0046 Aviation Safety indicators - A Report on Safety Indicators Relating to Australian Aviation - June 2005.pdf | Download |
Aviation Safety indicators - A Report on Safety Indicators Relating to Australian Aviation - June 2005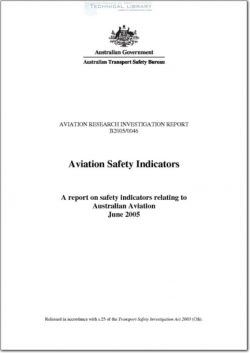 This report commences with an explanatory note describing in brief the
nature of aviation in Australia. Following this, the methods of data collection
and analysis are presented. Some limitations of the conclusions of this report
are then discussed. The ASI are then presented, divided into activity
indicators, industry indicators, accident indicators and incident indicators.
Finally, the report outlines conclusions based on the ASI.
The activity indicators show hours flown by categories and major types of
operation, departures by the two major types of RPT operation, scheduled
airline passenger movements (by definition, this information is only available
for RPT operations) and aircraft movements at major airports and aerodromes
around Australia (not necessarily complete for GA when towers are closed).
Activity indicators provide contextual information on activity or risk
exposure against which trends can be considered.
The industry indicators contain information about the age of Australian
registered aircraft, the numbers of flight crew licences, and the numbers of
aircraft maintenance engineer licences.
The accident indicators focus on accidents (rates and numbers), fatalities
(rates and numbers) and fatal accident rates. These indicators demonstrate the
trends that have occurred since 1993.