ATSB-AR-2009-016(2)
Download
| File | Action |
| --- | --- |
| ATSB-AR-2009-016(2) Aviation Occurrence Statistics; 1 January 1999 to 30 June 2009.pdf | Download |
Aviation Occurrence Statistics; 1 January 1999 to 30 June 2009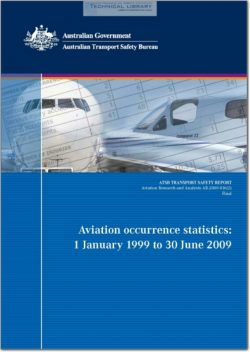 From 1999 to 2003 the number of incidents involving charter aircraft remained
relatively constant. However, since that time the number has increased. Similar to
that experienced with high capacity RPT, this may be attributed to the introduction
of the TSI Regulations and improved reporting cultures. The number of serious
incidents also increased from 2003 onwards, and in part, may be attributed to the
increased emphasis placed on safety in the air transport sector with the TSI
Regulations and re-classification of IRMs in 2008.
The number of total accidents fluctuated over the reporting period, with a maximum
of 32 accidents recorded in 2001 and a minimum of nine in 2005. The accident rate
per 100,000 hours flown and per 100,000 departures generally declined, with a
small increase noted since 2006.
Both the number and rate of fatal accidents remained relatively low, while the
corresponding fatality numbers were more pronounced, particularly at the
beginning of the reporting period. Some of these include:
On 24 November 1999, the pilot of a Cessna Aircraft Company U206A aircraft
reported encountering adverse weather and elected to divert to Burketown,
Queensland. A subsequent search found numerous small items from the
aircraft floating on the water near Sweers Island, Gulf of Carpentaria. The pilot
and five passengers were fatally injured (ATSB investigation 199905562).
On 4 September 2000, a Beech Super King Air 200 aircraft, registered VH—
SKC, departed Perth, Western Australia on a charter flight to Leonora with one
pilot and seven passengers on board. Shortly after the aircraft had climbed
through its assigned altitude, the pilot's speech became significantly impaired
and he appeared unable to respond to air traffic service instructions. Five hours
after taking off, the aircraft impacted the ground near Burketown, Queensland,
and was destroyed. There were no survivors (ATSB investigation 200003771).
On 10 April 2001, a Shrike Commander 500S aircraft, registered VH-UJB,
departed Cairns on a charter flight. Shortly after takeoff, the pilot requested an
amended altitude and indicated that he was able to continue flight with visual
reference to the ground or water. Air Traffic Services recorded data indicated
that approximately 13 minutes after departure, the aircraft disappeared from
radar. A search located the wreckage on the north-western side of Thornton
Peak. The pilot and three passengers were fatally injured (ATSB investigation
200101537).