ARMY-TM-1-1500-204-23-9
Download
| File | Action |
| --- | --- |
| ARMY-TM-1-1500-204-23-9 Tools and Ground Support Equipment - Vol. 9.pdf | Download |
Tools and Ground Support Equipment - Vol. 9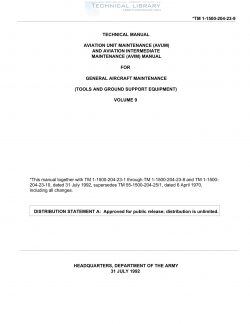 1-1. Purpose. This volume provides general information 
pertaining to tools and ground equipment used in aircraft 
maintenance. The application of materials and 
techniques used on specific aircraft is not covered in this 
volume. Specific aircraft application, usage, and 
substitution are found in the individual aircraft 
maintenance manuals. This volume is of maximum 
benefit to the mechanic who desires information about the 
various types of tools and ground support equipment used 
in aircraft maintenance. This volume furnishes the 
mechanic a source of information about how to perform 
various mechanical functions which are used on all 
aircraft. This volume is not a requisitioning authority, and 
applicable repair parts and special tools list should be 
consulted to obtain the unit of issue and National Stock 
Number of the items required for maintenance.
2-1. GENERAL. This chapter discusses general care. 
and upkeep of the tools and equipment used in aircraft 
maintenance. It is important that the aircraft mechanic 
is familiar with these guidelines, so that the aircraft unit 
can experience continued mission reliability. 
2-2. TYPES OF TOOLS USED IN ARMY AVIA- 
TION. The Army aircraft mechanic has a large variety 
of tools at his disposal. There are basic hand tools, 
measuring tools, power tools, special tools for aircraft, 
and torque tools. 
2-3. TOOL CARE. The efficiency of a mechanic and 
the tools he/she uses is determined to a great extent by 
the condition in which the tools are kept. Tools should be 
wiped clean and dry before being placed in a tool box. If 
their use is not anticipated in the near future, they should 
be lubricated to prevent rust. This is especially true if 
tools are stored under conditions of extremely humid or 
salt air. 
a. Cleaning. Proper cleaning is of prime impor- 
tance in the care of the aircraft maintenance tools. 
Listed below are a few simple procedures which are the 
basis for proper care of aircraft maintenance tools.