AFRPL-TR-77-49
Download
| File | Action |
| --- | --- |
| AFRPL-TR-77-49 Improved Jet Tab Thrust Vector Control for the BGM-34C Booster.pdf | Download |
Improved Jet Tab Thrust Vector Control for the BGM-34C Booster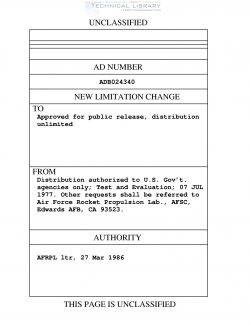 Thrust vector control (TVC) has been detemined to be a requi renent for 
the ground launching of a large remotely piloted vehicle (RPV) . 
The ground 
launch of small RPV's had previously been demnstrated without TVC, but 
required precise and difficult to achieve system alignments prior to lift 
off. In a tactical situation, the possibility of asymmetrical external 
loads, CG shift during turbojet run up and irregular terrain for launcher 
munting dictated a T VC capability to assure a successful launch. The jet 
tab TVC system was selected for the JBQM-34H ground launch program as the 
lowest risk approach to integrating a T VC system into an existing solid 
rocket nntor. The jet tab T VC was especially attractive because of the 
basic fixed nozzle system and its electrical actuation system which used 
excess on-board power. The existing sol id motor exit cone was installed at 
a threaded interface just aft of the nozzle throat. By replacing the simple 
exit cone with a jet tab system, no changes in the solid nntor were needed 
and a minimal risk program could be accompl ished. 
det tab thrust vector control (TVC) system development by TRW with the 
Air Force Rocket Propulsion Laboratory (AFRPL) began in March 1970 with 
Contract F04611-70-C-0060, The feasibility Of the concept was successfully 
deronstrated under contra-t and development was continued in March 1971 
under Contract F04611-71-C-0036 to extend the capabilities of the jet tab 
system to the high chamber pressure and highly aluminized propellant environ- 
ments. 
uring those two prograns, 18 test firings were conducted during which 
the jet tab TVC system demnstrated: 
up to fourteen degrees thrust vector deflection. 
Structural integrity with total tab exposure time 
greater than 20 seconds. 
Repeatable thrust vector performance with 
propellant aiuminum loadings up to 21.1 percent 
and mtor chanter pressures to 2600 psi. 
Actuation torques well within the range for small 
electric notors.