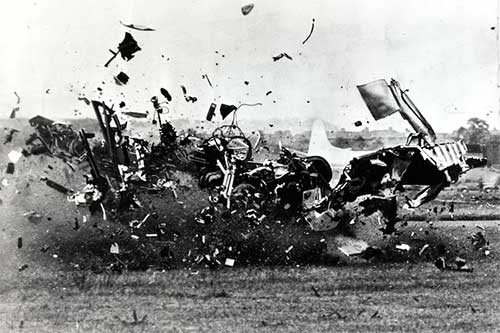 A version of this article first appeared in our free newsletter, to subscribe click here
I had a short exchange with a contact online concerning the state of the eVTOL regulations and specifically those applied to electrical batteries, controllers and motors for primary aircraft drive systems.
Regulations formulated in advance of a new type of system entering service are just best guesses. They are educated guesses made by smart people but there is necessarily some part of the behaviour of these systems that cannot be knowingly predicted.
What happens to very high power batteries, connectors, wiring, controllers and electric motors after they have been operated in extreme environments for years or decades? What failure modes will develop, how will they impact the systems and interact with the software controls and what are the correct mitigations to avoid the consequences of those failures?
The truth is that we will not be able to predict all of these aspects of new technologies and regulations will develop that are informed by tragedy, as they always have.
In accepting new technologies into aircraft service we have to expect the unexpected and that inevitably means tragedy and loss of life.
In our ever more risk averse societies, will this be acceptable? And that thought leads us onto…
Corona Virus and Your right to make your own Risk Assessments
In Ontario we are under very strict lockdown measures. This is because of the third wave of coronavirus. Hospitals are filling up, ICU beds are becoming scarce and we all need to be protected.
Our government has decided that the risks are so high that we cannot be trusted to make our own risk assessments and take our own measures to protect ourselves. It is so pressing that they have had to suspend our civil rights again and impose a set of measures so strict that every municipal police force in Ontario refused to enforce them because the police were afraid they were being granted too much power. That reaction alone is reason to pause for thought.
So what risks are we all being protected from? What risk is so great that we need to bankrupt hundreds or thousands of small businesses? What risk is so great that we need to suspend civil rights and institute a police state (powers even the police have rejected)? What risk is so great we need to run up public spending and debt to a level that will cause (and already is causing) massive inflation and ruin the financial future of millions of people?
Let's take a look;
Ontario makes some high quality data available to the public. You can review that here https://covid-19.ontario.ca/data
We are bombarded with the daily case counts but no mention of the effective fatality rate. The fatality rate is the most valuable measure of risk and is what we all really care about. Why is the daily fatality rate not openly published and discussed and why does it not form the central metric for public policy? There is a reason why we do not have society wide lockdowns and quarantine for cases of athlete's foot. This is directly related to the very low fatality rate of athlete's foot and yeast infections in general.
It follows that the level of concern we have as a society about an infection is a function of the fatality rate and not the infection rate.
Using the data taken directly from the website reference above this is the daily number of cases and the fatality rate plotted over each other (this is smoothed using a 7 day average). This is from March 2020 to the latest available date:
This graph demonstrates that the current fatality rate is about .5%. This is great news. The fatality rate has dropped from a peak of over 15% and is down by a factor of 30 from the peak of March/April of last year.
If we look at the number of COVID deaths per day vs number of new cases per day it looks like this:
This is good news again, the current number of COVID deaths per day, about 30, is lower than the last wave even though the number of cases is higher. This Third wave is causing much fewer fatalities and is much less dangerous.
From the same website, the at risk age groups are very clearly known and understood.
It is also very well known that there are specific comorbidities that place people at much higher risk.
Despite the falling fatality rate and the clear understanding we have of who is at risk – this is no surprise as it is the group of people who are at risk from a normal flu every year (https://www.cdc.gov/flu/about/burden/2018-2019.html) – the government has seen fit to try and protect everybody.
A typical flu season fatality rate is 0.1%. We are currently at 5 times that number but we are heading down towards a normal flu fatality rate.
For context, on average, 85 people die in Ontario every day from Cancer. COVID has never reached that level even at it's very worst. Why is dying of COVID totally not acceptable (quick, shutdown society and ruin the economy) but dying of cancer appears to be the state approved way to snuff it?
Is the government any good at managing risk on my behalf? What evidence do we have that they have demonstrated any competence in that regard? Why do they care so much about one relatively low risk that they are prepared to sacrifice the economy?
We are at the lowest risk of death from COVID since the start of the pandemic. Actually, COVID is not a pandemic anymore, it is now endemic, and the fatality rate is approaching that of regular flu. Why is the government behaving like this?