Lost in Sweden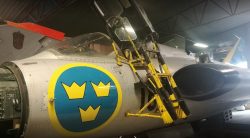 August 12, 2018
A version of this article first appeared in the July 2018 edition of our free newsletter, to subscribe click here
One of my favourite aircraft is the Saab 35 Draken which was a groundbreaking Swedish aircraft manufactured in the 1950's and 60's. It remained in service until the late 90's with the Danish and Swedish air forces.
We have spent the last week of June with my wife's parents in beautiful Sweden in a small town called Simrishamn. By chance there is a small museum just 5 minutes away from Simrishamn with a collection of Draken aircraft (http://www.osterlensflygmuseum.se/index.php) . The owner is an 'amateur' collector of aircraft (he has a real job during the week) and takes people on tours of his collection on Sundays by appointment.
He is far from being amateurish though, and his knowledge of Saab military aircraft programs is comprehensive. For any aircraft aficionado visiting the South East of Sweden I can recommend this as a great way to spend a Sunday afternoon.
He has about 10 Saab Drakens, 2 Saab Lansens, a Saab Viggen a De Havilland Dove, a Bell Huey many different vintage jet engines, aircraft ejection seats, flight suits, helmets and an astonishing array of aircraft miscellania. His collection is better than many established museums and his enthusiasm is infectious.
You can call the museum to make an appointment: 0701-122689. Remember to make a generous voluntary contribution, there is no set charge for viewing the collection and he is self supporting.