NASA-TM-2004-213013
Version

0

Downloads

529.56 KB

File Size

1

File Count

May 10, 2017

Create Date

May 10, 2017

Last Updated
The Airframe Noise Reduction Challenge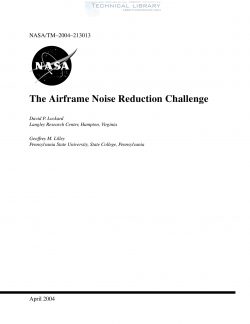 The goal of 10 dB noise reduction is scientifically demanding because it means reducing the acoustic power by
90 percent. NASA's long-term goal is to reduce aircraft noise by 20 dB. In recent years, aircraft engine noise
at take off and on approach has been reduced by an intensive research effort involving industry, academia, and
research establishments. The greatest contributions to engine noise reduction have come from the introduction
of high bypass ratio engines and successful applications of liner technology. Over twenty years ago, researchers
determined that airframe noise was of secondary importance, so there has not been a commensurate reduction in
airframe noise. Currently, the result of the success in engine noise reduction has meant that on the approach to
landing, airframe and engine noise are comparable. Thus, any further reduction of aircraft noise on the approach
can only be obtained if both engine and airframe noise are reduced by roughly equal amounts. At take off, when
the engines develop maximum power, the engine remains the major source of aircraft noise. Recent theoretical
and experimental studies into the physics-based sources of airframe noise have uncovered not only most of these
sources, but also methods for their reduction. However, most of these methods have yet to be implemented, and
the anticipated noise reduction is relatively modest in comparison with NASA goals.
This report identifies technologies with the greatest potential to reduce airframe noise. Acoustic and aerody-
namic effects will be discussed, as well as the likelihood of the aircraft industry adopting the new technologies.
Although the current NASA quiet aircraft technology program is not sufficiently endowed to validate or even
investigate all the proposed technologies, significant progress is possible if the present research is aggressively
pursued. However, it is unlikely that technology alone will meet the 10 dB goal within 10 years. An investigation
of the lower bound for airframe noise reveals that there will still be a significant shortfall. The lower bound is
the noise generated by an aircraft modified by a virtual retrofit capable of eliminating all noise associated with
the high-lift system and landing gear. The retrofit is assumed to have no performance penalty.
| File | Action |
| --- | --- |
| NASA-TM-2004-213013 The Airframe Noise Reduction Challenge.pdf | Download |