naca-wr-l-25
Version

9

Downloads

1.20 MB

File Size

1

File Count

April 21, 2017

Create Date

April 21, 2017

Last Updated
Notes on the Propeller and Slipstream in Relation to Stability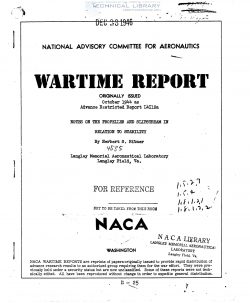 In reference 1, an analytical treatment is given of
the effect of propeller operation on the pitching moments
of single—engine monoplanes with flaps neutral. The
analysis, which is based on simplifying assumptions, is
accompanied by experimental data. In reference 2, the
analysis and the experiments are extended to the case
with flaps deflected. The present paper is intended to
supplement and, to a small extent, to amend references 1
and 2. A short extension is added on lateral stability.
Some previous work on propeller "fin effect"
(references 5 and h) has been recast in simpler form
with the thrust coefficient replacing the advance-
diameter coefficient as the independent variable. The
new relation, which is more suitable for stability
calculations, is presented herein together with charts
for the side-force derivative cross—plotted from
reference 5. Hereinafter, the term "normal-force
derivative," which is applicable to propellers in both
pitch and yaw, is used to replace the term "side—force _
derivative," which is associated with propellers in yaw.
The upwash or downwash from the wing influences the
normal force in pitch. A graph is provided for esti-
mating this change.
The propeller side-force factor was introduced in
reference 5 as a criterion for extrapolating side-force
charts for one propeller to apply to another propeller.
A simpler approximate method that avoids graphical
integration is provided herein for readily estimating
the side—force factor for a.given propeller.
Because the propeller yawing moment due to pitch -
what is the same except for sign, the pitching moment
due to yaw Cm'w-has a small but appreciable effect on
lateral trim, curves for Cm'w have been computed from
the formula of reference 5 and are presented herein.
A derivation in reference n has been extended to
provide a relation for the sidewash of the slipstream of
an isolated propeller in yaw that differs from the one
in common use (reference 6).
File
naca-wr-l-25 Notes on the Propeller and Slipstream in Relation to Stability.pdf