naca-wr-e-34
Version

18

Downloads

687.64 KB

File Size

1

File Count

April 15, 2017

Create Date

April 15, 2017

Last Updated
Cylinder-Head Cooling by Means of a Shield in the Exhaust Passage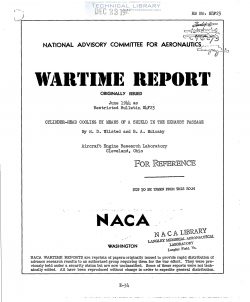 Tests were run on a single~cylinder, air—cooled engine with a
wright C9GC cylinder to determine the impr overent in cylinder-head
cooling that can be obta ned bv building i.nto the exhaust passage
an insulating shieM designed to protect the valveaguide boss and
the exhaust—passage wall.s from the exhaust gas. The test results
showed an appreciable improvement in cooling of the exhaust—valve~
guide boss, of the guide bushing, and of tie valve seat. 't a power
output of 91 indicated 0horsepover, the temperature of the valve—guide
bushing was reduced h80 F; that of the v1Lve seat, 2h0 F; and that
of the valve-guide boss, 8? with the original shield and 57
with the repaired shield. At Fthis power the same guide temperature
existed at a cooling—air pressure drop of 3 inches of water with
the shield as ata apressure drop of 22 inches of water without the
shield. The cooling— air pressure drops required for equal temper—
atures of the seat at this power were 5 inches of water with the
shield and 7E inches of water Without the shield. There was no
perceptible loss of power because of the use of the shield.
In tht course of research on cylinder coolir 1g at increased
pOVJeT outputs, it vras found that the heat load imposed upon the
exhaust valve was excessive at higher than rate p w.er. Corrosion
and de 1"ormation of the exhaust valve rasultecL Reduction of the
temperature of the outside of the cylinder head by increasing the
mass flow of cooling air was found to be relatively ineffective in
reducin~ the operating temperature of the valve (reference 1).
InaSmuch as a large portion of the heat removed from the valve
passes through the valve 3 aid; and the valve~guide boss, it was
thought that the £10? of he at from the valve might be increased by
reducing the flo*u of heat from the exhaust gas to tho valve—guiie
boss. Other invc stigat ors (refe'ences 2 and 3) have pointed out
the immortanc cs 01 cooling the valve guide as a means of improving
valve performance.
Some of the data presented in this report have been previously,
published in reference h, Which dealt with the over—all problem of
failures of exhaust valves. It is believed that the use of a shield
in the exhaust passage offers sufficient possibilities to warrant
the publication of all the applicableciata obtained in these tests.
| File | Action |
| --- | --- |
| naca-wr-e-34 Cylinder-Head Cooling by Means of a Shield in the Exhaust Passage.pdf | Download |