naca-wr-e-29
Version

54

Downloads

1.27 MB

File Size

1

File Count

April 15, 2017

Create Date

April 15, 2017

Last Updated
Experimental Study of the Coating Found on Scuffed Cast-Iron Piston Rings During Operation in Nitrided-Steel Cylinders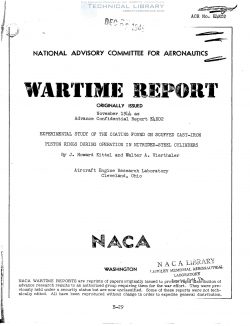 Cast—iron piston rings that were run in nitrided—steel cylinder
barrels under scuffing conditions showed a coating material on the
scuffed areas. Only a few of the it etching reagents that were tried
attacked the coating chemically, indicating good corrosion resist—
ancec The Vickers hardness number of the coating material was found
to be ChO. The coating formed to a maximum thickness of about
0.0001 inch on the running surface of the piston rings. Evidence was
found that steadite in the cast iron is associated with the formation
of the coatingt The coating also appears to contain voids or minute
flakes of graphite. On the basis of results obtained from the use
of Stead's reagent, it was found that the surfaces of cast~iron piston
rings that have been run unier normal operating conditions show more
steadite than new rings and that scuffed rings show more steadite
than either new or narmilly operatei unscuffed rings.
Cast~iron piston rings Show differences in surface structure
before and after running—ii: run—in cast—iron rings may have a hard
surface and often possess a glazed appearance; the surface of as»
machined rings is no harder than the basis metal and usually possesses
a dull matte appearance. The run~in surface is of great importance
because of the ability of run—in rings to carry large sliding loads
with little or no damage to the Sliding surfaces. The run-in surface
is sometimes called the Reilby layer because of the theoretical simi—
larity between the run—in surface and that produced by Sir George
Beilby in polishing several materials, notably calcite (reference 1).
Polish layers in general have never been seen in cross section with
the optical microscope because of their extreme thinness, which is
estimated to be from 50 to 600 A (references 2 and 5). Electron~
diffraction methods, however, yield information enabling the presence
of polish layers to be detected.
Run—in layers, which are distinct from polish layers because
they are produced under actual or simulated operating conditions
of the sliding members, have been examined, both in the United States
and abroad, on several materials such as cast iron, stainless steel,
and spring steel (reference h). These layers are ordinarily of suf—
ficient thickness to be visible under the optical microscope.
| File | Action |
| --- | --- |
| naca-wr-e-29 Experimental Study of the Coating Found on Scuffed Cast-Iron Piston Rings During Operation in.pdf | Download |