naca-wr-e-182
Version

14

Downloads

363.20 KB

File Size

1

File Count

April 21, 2017

Create Date

April 21, 2017

Last Updated
A Laboratory Tested Constant-Level Oil Sump to Prevent Aeration of Scavenged Oil from an Aircraft Engine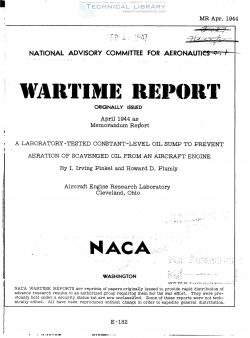 A combination oil sump and scavenge pump was constructed to
eliminate some of the oil-system difficulties in an aircraft engine
that result free the aeration of the scavenged engine oil and the
air—lock of the scavenge pump. Air is prevented from entering the
scavenge pump by a calumn of oil in the sump above the pump inlet.
This column of oil is maintained by returning some or all :f the
scavenge-9111111) delivery t) the sump. An automatic valve. cantrelled
by the oil level in the sump. regulates the flow of the oil bypassed
to the sump.
Labogatory oil-scavenge tests were conducted with a constant-
level oil sump at sea level and the value of such a device for pro-
venting oil aeration and scavenge-pump air-leek was determined.
These tests showed that the device does prevent the aeration of
scavenged oil and scavenge—pump air-lock. Tests of the device
under conditions simulating; altitude flight, mounted on a multi—
cylinder full—scale engine on a torque stand. and in flight are
warranted by the results of the laboratory tests. Details of the
construction of the device are included.
The investigation described. in this report is part of the gen-
oral study of the problem of engine oil scavenging requested by the
Arm Air Forces. Materiel Command. The work: reported covers sea-
level laboratory tests of a constant-Elevel crankcase oil sump that
is designed to prevent the aeration of scavenged oil and the air—
lock of the scavenge pump.
In present oil systems the aeration of the scavenged oil occurs
because the scavenge PUMP. which circulates oil from the engine sump
to the oil tank, has a capacity as great as twice that of the pres—
sure punp, which circulates oil from the tank to the engine. The
excess capacity of the scavenge pump is satisfied with crankcase gas
that flows to the oil tank with the oil where it often produces oil
foam. Sufficient foam can accumulate to fill the oilrtank air
space, the oil-tank vent line to the crankcase, and the crankcase.
When this foaming condition exists, oil foam is observed to pour from
the engine breather. The oil lost as foam can represent an appre—
ciable part of the total oil supply.
File
naca-wr-e-182 A Laboratory Tested Constant-Level Oil Sump to Prevent Aeration of Scavenged Oil from an Aircraft Engine.pdf