naca-rm-l9j26
Version

29

Downloads

707.18 KB

File Size

1

File Count

April 26, 2017

Create Date

April 26, 2017

Last Updated
National Advisory Committee for Aeronautics, Research Memorandum - Comparative Tests of the Rolling Effectiveness of Constant-Chord, Full-Delta, and Half-Delta Ailerons on Delta Wings at Transonic and Supersonic Speeds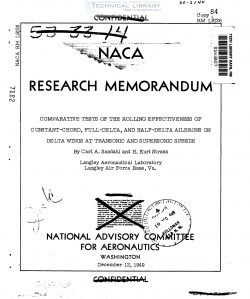 Comparative tests of the rolling power of plain constant-chord,
full-delta, and half-delta ailerons on delta wings having 15° -
and 60° leading-edge sweepback have been made utilizing rocket-propelled
test vehicles in free flight. The rolling power of the constant-chord
ailerons was reduced. abruptly in the Mach number range from 0-9 to 1-0-
For a given ratio of aileron area to wing area, the full-delta ailerons
had a higher level of effectiveness at supersonic speeds than the
constant-chord or half-delta ailerons. The half-delta ailerons had the
smallest variation of effectiveness with Mach number and were about as
effective as the full-delta ailerons at M = 1.9- The wing-aileron
rolling effectiveness of the half- and full-delta ailerons can be
accurately predicted by calculations based on the linearized flow
"equations. Similar calculations for the constant-chord ailerons yield
values which are considerably larger than the measured values.
Of the numerous wing plan forms which have been proposed for flight
at transonic and supersonic speeds, the delta plan form affords certain
aerodynamic and structural advantages. In an approach to the problem
of providing such wings with adequate aerodynamic control surfaces,
comparative tests of the rolling power of several delta-wing aileron
configurations have been made- Plain constant-chord, full-delta, and
half—delta ailerons were tested with delta. wings having #50 and 60°
leading-edge sweepback- A half-delta configuration identical to that
used in the investigations reported in reference 1 was also tested- The
tests, which were made in free flight with rocket-propelled test vehicles
by means of the technique described in reference 2, permit the evaluation
of the rolling power of wing-aileron configurations continuously over the
mach number range from about 0-7 to as high as;l.9- Theflight tests
were conducted at the Langley Pilotless Aircrai't Re_searc_h Station,
Wallops Island, Va. The present paper includes and extends the work
reported in reference 3.
| File | Action |
| --- | --- |
| naca-rm-l9j26 Comparative Tests of the Rolling Effectiveness of Constant-Chord, Full-Delta, and Half-Delta Ailerons on Delta Wings at Transonic and Supersonic Speeds.pdf | Download |