naca-rm-a8f15
Version

0

Downloads

1.09 MB

File Size

1

File Count

April 20, 2017

Create Date

April 20, 2017

Last Updated
National Advisory Committee for Aeronautics, Research Memorandum - Investigation of a Thin Wing of Aspect Ratio 4 in the AMES 12 Foot Pressure Wind Tunnel - II - The Effect of Constant Chord Leading and Trailing Edge Flaps on the Low Speed Characteristics of the Wing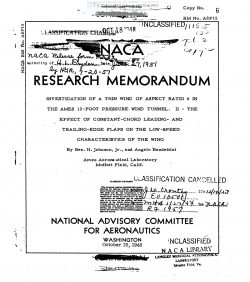 The leading-edge flap was particularly effective in improving the
pitching—moment characteristics of the wing, whether the flap
was deflected alone or in combination with either of_the trailing—
edge flaps. Any of the flaps were effective in improving the lift—
drag ratio.at the higher lift coefficients.
The effects of scale and modification of the diamond profile
by rounding the ridges were also inyestigated for a combination of
plain leading— and trailing—edge flaps, optimum for maximum lift.
The wing characteristics were little affected by profile modification
or variation of the Reynolds number.
For supersonic aircraft, the wings of which are not swept behind
the Mach cone, airfoil sections with sharp leading edges are considered
necessary to minimize the drag due to wave resistance. The nazimmm
lift of such a wing profile at subsonic speeds is relatively low due
to the occurrence of laminar _separation at the wing leading edge at
small angles of attack. Accordingly, auxiliary lift—producing devices
are essential to provide the aircraft with acceptable landing_ and
take—off characteristics.
In order to ascertain the effectiveness of constant—chord leading—
and trailing—edge flaps applied to such a wing, tests of a semispan
model have been conducted in the Ames 12-foot pressure wind tunnel.
The model represented a wing of aspect ratio h, a taper ratio of 0.50,
with a sharp—edge diamond profile of thickness ratio 0.0h5. The
tests were made at Mach numbers of 0.20 and 0.30 and at a range of
Reynolds numbers from 3,000,000 to 10,000,000.
The semispan model used in this investigation was the same as .
that used in the tests reported in reference l._ The effective
geometric aspect ratio was 1+ and the taper ratio was 0.50. The
50—percent—chord line of the wing was normal to the free stream. The
initial wing profile was a diamond section having a thickness ratio of
0.01I-5. Subsequent modification by rounding of the ridges resulted
in a thickness ratio of 0.042.
| File | Action |
| --- | --- |
| naca-rm-a8f15 Investigation of a Thin Wing of Aspect Ratio 4 in the AMES 12 Foot Pressure Wind Tunnel - II - The Effect of Constant Chord Leading and Trailing Edge Flaps on the Low Speed Characteristics of the Wing.pdf | Download |