naca-rm-a50a13
Version

4

Downloads

1.42 MB

File Size

1

File Count

April 20, 2017

Create Date

April 20, 2017

Last Updated
National Advisory Committee for Aeronautics, Research Memorandum - An Experimental Investigation of a Jet Engine Nacelle in Several Position on a 37.25° Swept-Back Wing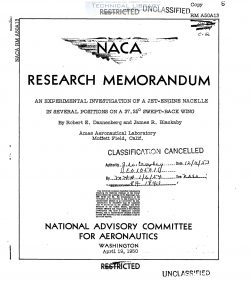 Wind—tunnel tests of a Jet—engine nacelle on a semispan wing having
the leading edge swept back 37.25o were made to determine the effects of
the nacelle on the aerodynamic characteristics of the wing. The wing had
an aspect ratio of 6.01!- and the tip chord was half the root chord. The
nacelle was mounted. in three positions: centrally and low on the wing at
the 3l—percent—semispan station and centrally at the wing tip.
h comparison with the force characteristics of the wing alone, the
addition of the nacelle to the wing in each position resulted. in favorable
interference on the maximum—lift and pitching-moment characteristics and
in a small increase in drag.
The ram-pressure recovery in the inlets was at least 95 percent of
free—stream ram pressure for inlet—velocity ratios less than unity and
positive angles of attack up to 7°.
For the wing—nacelle combinaticns, the critical Mach numbers pre—
dicted for locations corresponding to the crest of the airfoil did not
vary with inlet velocity and were, in general, higher then those predicted
for the crest of the airfoil alone. The crest was defined as the location
at which the airfoil surface was tangent to the free—stream direction.
Tests were reported in reference 1 of the effects on the low—speed
aero dgnamic characteristics of a wing with the leading edge swept back
37 .25 produced by the addition of a nacelle in various positions on the
wing. That nacelle was a solid ellipsoidal body with a fineness ratio
of 5.0 and. it had no provision for internal air flow. The present report
is a continuation of the investigation reported in reference 1 and pre—
sents a summation of the effects accompanying the addition of a nacelle
with internal air flow to the same swept—back wing. The nacelle was
mounted at'the 31—percent-semispan station of the wing in a central and
in an underslung position and also at the wing tip in a central position.
| File | Action |
| --- | --- |
| naca-rm-a50a13 An Experimental Investigation of a Jet Engine Nacelle in Several Position on a 37.25° Swept-Back Wing.pdf | Download |