naca-report-990
Version

63

Downloads

926.33 KB

File Size

1

File Count

September 1, 2016

Create Date

September 1, 2016

Last Updated
National Advisory Committee for Aeronautics, Report - An Analysis of Supersonic Aerodynamic Heating with Continuous Fluid Injection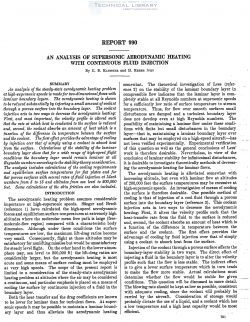 An analysis of the steady-state aerodynamic heating problem
at high-supersonic speeds is made for two-dimensional flows with
laminar boundary layers. The aerodynamic heating is shown
to be reduced substantially by injecting a small amount of coolant
through a porous surface into the boundary layer. The coolant
injection acts in two ways to decrease the aerodynamic heating:
First, and most important, the relocity profile is altered such
that the rate at which heat is conducted to the surface is reduced
and, second, the coolant absorbs an amount of heat which. is a
function of the diference in temperature between the surface
and the coolant. The first eject prcrides the adrantage of cooling
by injection orer that of simply using a coolant to absorb heat
from the surface. Calculations of the stability of the laminar
boundary layer show that for a wide range of high-speed flight
conditions the boundary layer would remain laminar at all
Reynolds numbers according to the stability—theory consideration.
The analysis includes calculations of the cooling requirements
and equilibrium surface temperatures for flat plates and for
flat porous surfaces with several rates qtfiuid injection at Mach
numbers from 5 to 15 and altitudes from sea lerel to 200,000
feet. Some calculations of the skin friction are also included.
The aerodynamic heating problem assumes considerable
importance at high-supersonic speeds. Sfinger and Bredt
(reference 1) have calculated the high-speed aerodynamic
forces and equilibrium surface temperatures at- extremely high
altitudes where the molecular mean free path is large (free-
molecule-flow region) compared with a characteristic body
dimension. Although under these conditions the surface
temperatures are low, the maximum lift—drag ratios become
very small. Consequently, flight at- these altitudes may be
satisfactory for nonlifting missiles but would be unsatisfactory
for steady level flight. On the other hand in the lower atmos-
phere (say, sea level to 200,000 ft) the lift-drag ratios are
considerably larger, but the aerodynamic heating is most
acute and some means of surface cooling must. be employed
at very high speeds. The scope of the present report is
limited to a consideration of the steady-state aerodynamic
heating problem at altitudes where the air may be considered
a continuum, and particular emphasis is placed on a means of
cooling the surface by continuous injection of a fluid in the
boundary layer.
| File | Action |
| --- | --- |
| naca-report-990 An Analysis of Supersonic Aerodynamic Heating with Continuous Fluid Injection.pdf | Download |