naca-report-963
Version

119

Downloads

2.05 MB

File Size

1

File Count

September 1, 2016

Create Date

September 1, 2016

Last Updated
National Advisory Committee for Aeronautics, Report - Investigation with an Interferometer of the Turbulent Mixing of a Free Supersonic Jet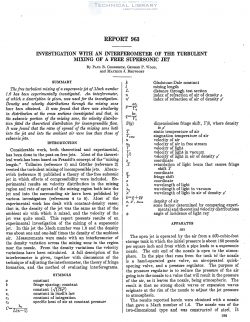 The free turbulent mixing of a supersonic jet of JIach number
1.6 has been experimentally i-ni-estigated. An interferometer,
of which a description is given, was used for the investigation.
Density and i'elocity distributions through the mixing zone
have been obtained. It was found- that there was similarity
in distribution at the cross sections inrestigatecl and that, in
the subsonic portion of the mixing zone, the relocity distribu-
tion fitted the theoretical distribution for incompressible flow.
It was found that the rates of spread of the mixing zone both
into the jet and into the ambient air were less than. those of
subsonic jets.
Considerable work, both theoretical and experimental,
has been done in the past on free jets. hIost of the theoret-
ical work-has been based on Prandtl's concept of the "mixing
length." Tollrnien (reference 1) and Gortler (reference 2)
treated the turbulent mixing of incompressible jets. Abram-
ovich (reference 3) published a theory of the? free subsonic
jet in which efi'ects of compressibility were included. Ex-
perimental results on velocity distribution in the mixing
region and rate of spread of the mixing region both into the
jet and into the surrounding air have been published by
various investigators (references 4 to 8). Most of the
experimental work has dealt with constant-density cases;
that is, the density of the jet- was the same as that of the
ambient air with which it mixed, and the velocity of the
jet was quite small. This report presents results of an
experimental investigation of the mixing of a supersonic
jet.
In this jet the Mach number was 1.6 and the density
was about one and one-half times the density of the ambient
air. Measurements were made with an interferometer of
the density variation across the mixing zone in the region
near the nozzle. From the density variations the velocity
variations have been calculated. A full description of the
interferometer is given, together with discussions of the
technique of adjusting the interferometer, the theory of fringe
formation, and the method of evaluating interferograms.
| File | Action |
| --- | --- |
| naca-report-963 Investigation with an Interferometer of the Turbulent Mixing of a Free Supersonic Jet.pdf | Download |