naca-report-933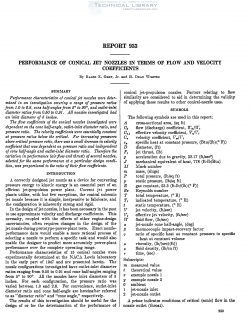 Version

116

Downloads

862.10 KB

File Size

1

File Count

August 31, 2016

Create Date

August 31, 2016

Last Updated
National Advisory Committee for Aeronautics, Report - Performance of Conical Jet Nozzles in Terms of Flow and Velocity Coefficients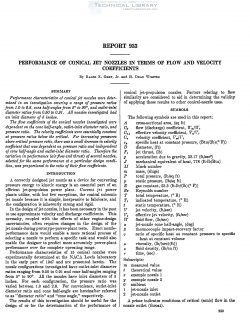 Performance characteristics of conical jet nozzles were deter-
mined in an inrestigation catering a range of pressure ratios
from 1.0 to 2.8, cone half-angles from 5° to 90°, and outlet-inlet
diameter ratios from 0.50 to 0.91. All nozzles incestigated had
an inlet diameter of 5 inches.
The flow coeflicients of the conical nozzles inrestigated were
dependent on the cone halfiangle, outlet-inlet diameter ratio, and
pressure ratio. The velocity coeficients were essentially constant
at pressure ratios below the critical. For increasing pressures
aboce critical pressure ratio, there was a small decrease in velocity
coeficient that was dependent on pressure ratio and independent
of cone half-angle and outlet—inlet diameter ratio. Therefore the
i'ariation in performance (airflow and thrust) of sereral nozzles,
selected for the same performance at a particular design condi-
tion, was proportional to the ratio of their flow coqficients.
A correctly designed jet nozzle as a device for converting
pressure energy to kinetic energy is an essential part of an
efficient jet—propulsion power plant. Current jet power
plants utilize, with but few exceptions, the conical subsonic
jet nozzle because it- is simple, inexpensive to fabricate, and
the configuration is inherently strong and rigid.
In the design of jet nozzles, it has been necessary in the past
to use approximate velocity and discharge coefficients. This
necessity, coupled with the effects of other engine-design
uncertainties, often requires changes in the design of the
jet nozzle during prototype—power—plant tests. Exact nozzle-
performance data would enable a more rational process of
selecting a nozzle to perform a specific task and would also
enable the designer to predict more accurately power-plant
performance over the complete operating range.
Performance characteristics of 15 conical nozzles were
experimentally determined at the NACA. Lewis laboratory
in the early part of 1947 and are presented herein. The
nozzle configurations investigated have outlet-inlet diameter
ratios ranging from 0.50 to 0.91 and cone half—angles ranging
from 5° to 90°. All the nozzles have inlet diameters of 5
inches. For each configuration, the pressure ratio was
varied between 1.0 and 2.8. For convenience, outlet-inlet
diameter ratio and cone half-angle are hereinafter referred
to as "diameter ratio" and "cone angle," respectively.
| File | Action |
| --- | --- |
| naca-report-933 Performance of Conical Jet Nozzles in Terms of Flow and Velocity Coefficients.pdf | Download |