naca-report-917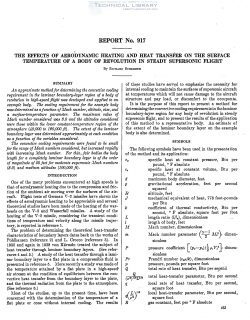 Version

58

Downloads

838.95 KB

File Size

1

File Count

August 31, 2016

Create Date

August 31, 2016

Last Updated
National Advisory Committee for Aeronautics, Report - The Effects of Aerodynamic Heating and Heat Transfer on the Surface Temperature of a Body of Revolution in Steady Supersonic Flight
An approximate method for determining the conrectir—e cooling
requirement in the laminar boundary-layer region of a body of
recolution in high-speedfiight was dereloped and applied to an
example body. The cooling requirement for the example body
was determined as a function of ildach number, altitude, size, and
a surface-temperature parameter. The maximum ralue of
Mach, number considered was 3.0 and the altitudes considered
were those within the lower constant-temperature region of the
atmosphere (40,000 to 120,000 ft). The extent of the laminar
boundary layer was determined approximately at each condition
as a function of the variables considered.
The coni'ectire cooling requirements were found to be small
for the range of llIach numbers considered, but increased rapidly
with increasing Mach number. For thin, fair bodies the body
length for a completely laminar boundary layer is of the order
of magnitude of 50 feet for moderate supersonic JIach numbers
(3.0) and medium altitudes (100,000 ft).
One of the many problems encountered at high speeds is
that of aerodynamic heating due to the compression and fric-
tion of the ambient air moving over the surfaces of the air-
craft. Flight tests of German V —2 missiles have shown the
effects of aerodynamic heating to be appreciable and several
theoretical studies have been made of the heating of the war—
heads on the V—2 and Wasserfall missiles. A study of the
heating of the V—2 missile, considering the transient condi-
tions of temperature and velocity along the missile trajec-
tory, is reported in reference 1.
The problem of determining the theoretical heat—transfer
characteristics of boundary layers dates back to the works of
Pohlhausen (reference 2) and L. Crocco (reference 3). In
1935 and again in 1938 von Karman treated the subject of
heat transfer through laminar boundary layers. (See refer-
ences 4 and 5.) A study of the heat transfer through a lami-
nar boundary layer to' a flat plate in a compressible fluid is
presented in reference 5. More recently a study was made of
the temperature attained by a. flat plate in a high-speed'
air stream at the condition of equilibrium between the con-
vective heat transfer from the boundary layer to the plate,
and the thermal radiation from the plate to the atmosphere.
| File | Action |
| --- | --- |
| naca-report-917 The Effects of Aerodynamic Heating and Heat Transfer on the Surface Temperature of a Body of Revolution in Steady Supersonic Flight.pdf | Download |