naca-report-905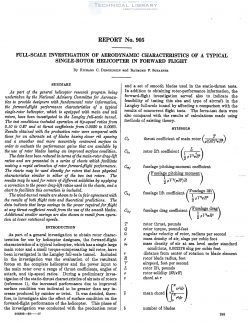 Version

95

Downloads

1.97 MB

File Size

1

File Count

August 31, 2016

Create Date

August 31, 2016

Last Updated
National Advisory Committee for Aeronautics, Report - Full Scale Investigation of Aerodynamic Characteristics of a Typical Single Rotor Helicopter in Forward Flight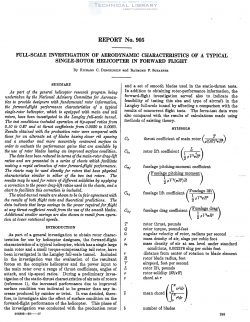 As part of the general helicopter research program being
undertaken by the National Adoisory Committee for Aeronau-
tics to provide designers with fundamental' rotor information,
the forwardfiight performance characteristics of a typical
single-rotor helicopter, which is equipped with main and tail
rotors, have been investigated in the Langley full-scale tunnel.
The test conditions included operation at tip-speed ratios from
0.10 to 0.27 and at thrust coeficients from 0.0030 to 0.0060.
Results obtained with the production rotor were compared with
those for an alternate set of blades having closer rib spacing
and a smoother and more accurately contoured surface in
order to evaluate the performance gains that are available by
the use of rotor blades having an improeed surface condition.
The data has-e been reduced in terms of the main-rotor drag-lift
ratios and are presented in a series of charts which facilitate
making a rapid estimation of rotor fonoardflight performance.
The charts may be used directly for rotors that have physical
characteristics similar to either of the two test rotors. The
results may be used for rotors of difierent solidifies by applying
a correction to the power drag—lift ratios used in the charts, and a
chart to facilitate this correction is included.
The wind-tunnel results are shown to be in fair agreement with
the results of both flight tests and theoretical predictions. flhe
data indicate that large savings in the power required for flight
at any thrust coefi'icient result from the use of the smooth blades.
Additional smaller savings are also shown to result from opera—-
tion at lower rotational speeds.
As part of a general investigation to obtain rotor charac-
teristics for use by helicopter designers, the forward-flight
characteristics of a typical helicopter, which has a single large
main rotor and a small torque-compensating tail rotor, have
been investigated in the Langley full-scale tunnel. Included
in the investigation was the evaluation of the resultant
forces on the complete helicopter and the power input to
the main rotor over a range of thrust, coefficients, angles of
attack, and tip-speed ratios. During a preliminary inves-
tigation of the static—thrust characteristics of six sets of rotors
(reference 1), the increased performance due to improved
surface condition was indicated to be greater than any in-
crease produced by camber or twist. It. was decided, there-
fore, to investigate also the effect of surface condition on the
forward-flight. performance of the helicopter.
| File | Action |
| --- | --- |
| naca-report-905 Full Scale Investigation of Aerodynamic Characteristics of a Typical Single Rotor Helicopter in Forward Flight.pdf | Download |