naca-report-880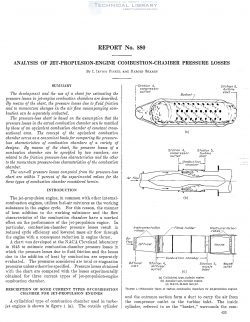 Version

108

Downloads

955.15 KB

File Size

1

File Count

August 31, 2016

Create Date

August 31, 2016

Last Updated
National Advisory Committee for Aeronautics, Report - Analysis of Jet Propulsion Engine Combustion Chamber Pressure Losses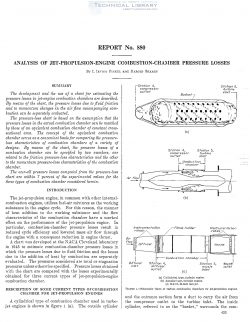 The derelopment and the use of a chart for estimating the
pressure losses in jet—engine combustion chambers are described.
By means of the chart, the pressure losses due to fluid friction
and to momentum changes in the air flow accompanying com-
bustion can be separately evaluated.
The pressure-loss chart is based on the assumption that the
pressure losses in the actual combustion chamber can be matched
by those of an eguiralent combustion chamber of constant cross-
sectional area. The concept of the equivalent combustion
chamber series as a concenient basisfor comparing the pressure—
loss characteristics of combustion chambers of a variety of
designs. By means of the chart, the pressure losses of a
combustion chamber can be specified by two numbers, one
related to the friction pressure—loss characteristics and the other
to the momentum pressure-loss characteristics of the combustion
chamber.
The over—all pressure losses computed from the pressure-loss
chart are within 7 percent of the experimental values for the
three types of combustion chamber considered herein.
The j eta-propulsion engine, in common with other internal-
combustion engines, utilizes fuel-air mixtures as the working
substance in the engine cycle. For this reason, the manner
of heat addition to the working substance and the flow
characteristics of the combustion chamber have a marked
effect on the performance of the jet—propulsion engine. In
particular, combustion-chamber pressure losses result in
reduced cycle efficiency and lowered mass air flow through
the engine With a consequent reduction in engine thrust.
A chart. was developed at the NACA Cleveland laboratory
in 19—15 to estimate combustion—chamber pressure losses in
which the pressure losses due to fluid friction and the losses
due to the addition of heat by combustion are separately
evaluated. The pressures considered are total or stagnation
pressures unless otherwise specified. Pressure losses obtained
with the chart are compared with the losses experimentally
obtained for three current types of jet-propulsion-engine
combustion chamber.
| File | Action |
| --- | --- |
| naca-report-880 Analysis of Jet Propulsion Engine Combustion Chamber Pressure Losses.pdf | Download |