naca-report-849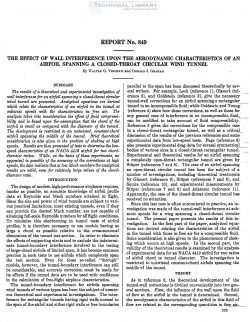 Version

93

Downloads

2.10 MB

File Size

1

File Count

August 31, 2016

Create Date

August 31, 2016

Last Updated
National Advisory Committee for Aeronautics, Report - The Effect of Wall Interference Upon the Aerodynamic Characteristics of an Airfoil Spanning a Closed Throat Circular Wind Tunnel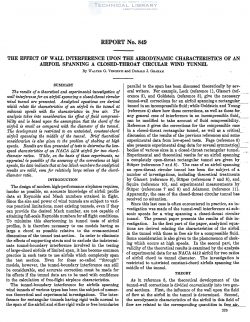 The results of a theoretical and aperimental investigation of
wall interference for an airfoil spanning a closed-throat circular
wind tunnel are presented. Analytical equations are derived
which relate the characteristics of an airfoil in the tunnel at
subsonic speeds with the characteristics in free air. The
analysis takes into consideration the efect of fluid compressi-
bility and is based upon the assumption that the chord of the
airfoil is small as compared with the diameter of the tunnel.
17m development is restricted to an natwisted, constant—chord
airfoil spanning the middle of the tunnel. Brief theoretical
consideration is also given to the problem of choking at high
speeds. Results are then presented of tests to determine the low-
speed characteristics of an NACA 4.412 airfoil for two chord-
diameter ratios. While, on the basis of these ezperiments, no
appraisal is possible of the accuracy of the corrections at high
speeds, the data indicate that at low .Mach numbers the analytical
results are valid, even for relatively large values of the chord-
diameter ratio.
The design of modern high-performance airplanes requires,
insofar as possible, an accurate knowledge of airfoil profile
data at Reynolds and Mach numbers attained in flight.
Since the size and power of wind tunnels are subject to vari-
ous practical limitations, most existing tunnels, even if they
can provide the desired Mach number, are not capable of
attaining full-scale Reynolds numbers for all flight conditions.
To minimize this shortcoming in tunnel tests of airfoil
profiles, it is therefore necessary to use models having as
large a chord as possible relative to the cross-sectional
dimensions of the tunnel test section. In order to eliminate
the effects of supporting struts and to exclude the indetermi-
nate tunnel-boundary interference involved in the testing
of large-chord airfoils of limited span, it has become common
practice in such tests to use airfoils which completely span
the test section. Even for these so-called "through"
models, however, the tunnel-boundary interference can still
be considerable, and accurate correction must be made for
its efi'ects if the tunnel data are to be used with confidence
in the calculation of free—flight airplane characteristics.
| File | Action |
| --- | --- |
| naca-report-849 The Effect of Wall Interference Upon the Aerodynamic Characteristics of an Airfoil Spanning a Closed Throat Circular Wind Tunnel.pdf | Download |