naca-report-846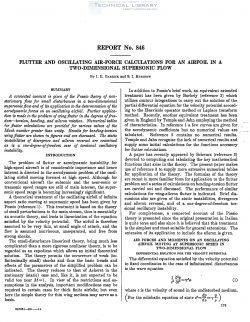 Version

136

Downloads

1.88 MB

File Size

1

File Count

August 31, 2016

Create Date

August 31, 2016

Last Updated
National Advisory Committee for Aeronautics, Report - Flutter and Oscillating Air Force Calculations for an Airfoil in a Two Dimensional Supersonic Flow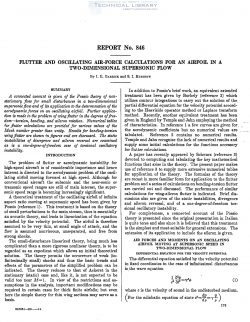 A connected account is given of the Possio theory of non-
stationary flow for small disturbances in a two-dimensional
supersonic flow and of its application to the determination of the
aerodynamic forces on an oscillating airfoil. Further applica—
tion is made to the problem of wing flutter in the degrees offree-
dam—torsion, bending, and aileron rotation. Numerical tables
for flutter calculations are provided for carious values of the
lunch number greater than unity. Results for bending-torsion
wingjlutter are shown in figures and are discussed. The static
instabilities of dirergence and aileron reversal are examined
as is a one-degree-of-freedom case of torsional oscillatory
instability.
The problem of flutter or aerodynamic instability for
high-speed aircraft is of considerable importance and hence
interest is directed to the aerodynamic problem of the oscil-
lating airfoil moving forward at high speed. Although for
conventional aircraft the subsonic and the near-sonic or
transonic speed ranges are still of main interest, the super-
sonic speed range is becoming increasingly significant.
A theoretical treatment of the oscillating airfoil of infinite
aspect ratio moving at supersonic speed has been given by
Possio (reference 1). This treatment is based on the theory
of small perturbations to the main stream, thus is essentially
an acoustic theory, and leads to linearization of the equation
satisfied by the velocity potential. The airfoil is therefore
assumed to be very thin, at small angle of attack, and the
flow is assumed nonviscous, unseparated, and free from
strong shocks.
The small-disturbance linearized theory, being much less
complicated than a more rigorous nonlinear theory, is to be
regarded as an expedient which allows an initial theoretical
solution. The theory permits the occurrence of weak (in-
finitesimally small) shocks and thus the basic trends and
effects of the parameters of the simplified problem can be
indicated. The theory reduces to that of Ackeret in the
stationary (static) case and, like it, is not expected to be
valid too near M' =1. In view of the restrictions and as-
sumptions in the analysis, important modifications may be
required in certain cases for thick finite ail-foils; but even
here the simple theory for thin wing sections may serve as a
basis.
| File | Action |
| --- | --- |
| naca-report-846 Flutter and Oscillating Air Force Calculations for an Airfoil in a Two Dimensional Supersonic Flow.pdf | Download |