naca-report-534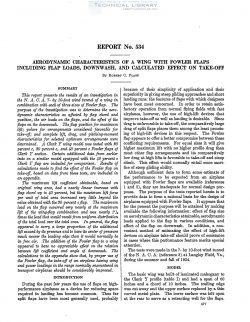 Version

100

Downloads

1.21 MB

File Size

1

File Count

August 30, 2016

Create Date

August 30, 2016

Last Updated
National Advisory Committee for Aeronautics, Report - Aerodynamic Characteristics of a Wing with Fowler Flaps Including Flap Loads, Downwash, and Calculated Effect on Takeoff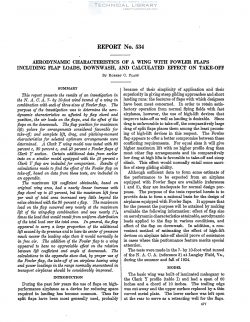 This report presents the results of an investigation in
the N. A. C. A. '7— by 10-foot wind tunnel of a wing in
combination with each of three sizes of Fowler flap. The
purpose of the investigation was to determine the aero-
dynamic characteristics as afected by flap chord and
position, the air loads on the flaps, and the eject of the
flaps on the downwash. The flap position for maximum
lift; polars for arrangements considered favorable for
take-017; and complete lift, drag, and pitching-moment
characteristics for selected optimum arrangements were
determined. A Clark Y wing model was tested with 20
percent c, 30 percent c, and 40 percent 0 Fowler flaps of
Clark Y section. Certain additional data from earlier
tests on a similar model equipped with the 40 percent c
Clark Y flap are included for comparison. Results of
calculations made to find the eject of the Fowler flap on
take-of, based on data from these tests, are included in
an appendix.
The maximum lift coefi'icient obtainable, based on
original wing area, had a nearly linear increase with
flap chord up to 40 percent, but the maximum lift force
per unit of total area increased very little beyond the
value obtained with the 30 percent c flap. The maximum
load on the flap occurred very nearly at the maximum
lift of the wingflap combination and was nearly 1'/,
times the load that would result from uniform distribution
of the total load over the total area. In general, the flap
appeared to carry a large proportion of the additional
lift caused by its presence and to have its center of pressure
much nearer the leading edge than it would normally be
in free air. The addition of the Fowler flap to a wing
appeared to have no appreciable efect on the relation
between lift coefficient and angle of downwash. The
calculations in the appendix show that, by proper use of
the Fowler flap, the take-off of an airplane having wing
and power loadings in the range normally encountered in
transport airplanes should be considerably improved.
| File | Action |
| --- | --- |
| naca-report-534 Aerodynamic Characteristics of a Wing with Fowler Flaps Including Flap Loads, Downwash, and Calculated Effect on Takeoff.pdf | Download |