naca-report-1000
Version

91

Downloads

2.13 MB

File Size

1

File Count

September 1, 2016

Create Date

September 1, 2016

Last Updated
National Advisory Committee for Aeronautics, Report - Calculation of the Aerodynamic Loading of Swept and Unswept Flexible Wings of Arbitrary Stiffness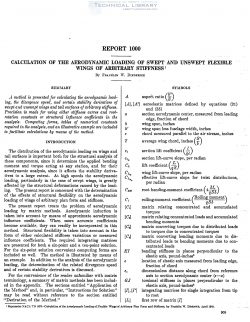 The method is presented for calculating the aerodynamic load-
ing, the dirergence speed, and certain stability derivatives of
suzept and unswept wings and tail surfaces of arbitrary stifness.
Provision. is made for using either stifness curves and root-
rotation constants or structural influence coefiicients in the
analysis. Computing forms, tables of numerical constants
required in the analysis, and an illustratire example are included
to facilitate calculations by means of the method.
The distribution of the aerodynamic loading on Wings and
tail surfaces is important both for the structural analysis of
these components, since it determines the applied bending
moment and torque acting at any station, and for their
aerodynamic analysis, since it affects the stability deriva-
tives to a large extent. At high speeds the aerodynamic
loading, particularly in the case of swept wings, is greatly
affected by the structural deformations caused by the load-
ing. The present report is concerned with the determination
of the effects of structural flexibility on the aerodynamic
loading of wings of arbitrary plan form and stiffness.
The. present report treats the problem of aerodynamic
loading by matrix methods. Aerodynamic induction is
taken into account by means of approximate aerodynamic
influence coefficients. When more accurate coefficients
become available, they can readily be incorporated in this
method. Structural flexibility is taken into account in the
form of either calculated stiffness variations or measured
influence coefficients. The required integrating matrices
are presented for both a. six—point and a ten-point solution.
For the six-point- solution convenient. computing forms are
included as well. The method is illustrated by means of
an example. In addition to the analysis of the aerodynamic
loading, the determination of the related divergence speed
and of certain stability derivatives is discussed.
| File | Action |
| --- | --- |
| naca-report-1000 Calculation of the Aerodynamic Loading of Swept and Unswept Flexible Wings of Arbitrary Stiffness.pdf | Download |