ARMY-TM-1-1500-204-23-8
Version

120

Downloads

428.27 KB

File Size

1

File Count

March 5, 2017

Create Date

March 5, 2017

Last Updated
Machine and Welding Shop Practices - Vol. 8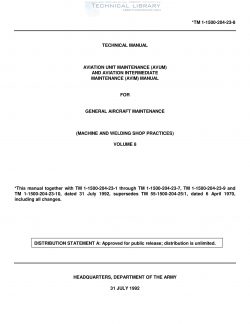 1-1. 
Purpose. This volume provides general 
information pertaining to machine and welding shop 
practices. The application of materials and techniques 
used on specific aircraft is not covered in this volume. 
Specific aircraft application, usage, and substitution are 
found in the individual aircraft maintenance manuals. 
This volume is of maximum benefit to the mechanic who 
desires information about machine and welding shop 
practices and procedures. This volume furnishes the 
mechanic a source of information about how to use and 
care for equipment in the machine and welding shops. 
This volume is not a requisitioning authority, and 
applicable repair parts and special tools list should be
consulted to obtain the unit of issue and National Stock 
Number of the items required for maintenance. 
1-2. Scope. General information to guide aircraft 
maintenance personnel is covered within this volume; 
however, no attempt has been made to include special 
parts or equipment which are applicable only to individual 
or specific aircraft. General information on machine shop 
practices is contained in Cha ter 2 Welding shop 
practices are contained i 
h tr 
1-3. Consumable Materials. Refer to TM 1-1500- 
204-23-6 for consumable materials in this volume.
2-1. General. The following paragraphs describe 
machine shop rules, machine safety precautions, care 
and use of equipment, laying out and mounting work, and 
special operations on drilling machines. 
2-2. Shop Rules. The practices and procedures 
described in this chapter pertain to the manufacturing 
and repair functions of aviation activities and are applica- 
ble to all levels of maintenance. Because of the many 
types of Army aircraft, each shop within the manufactur- 
ing and repair section must, of necessity, have personnel 
trained in general practices and procedures to the extent 
that different type and model aircraft do not upset a 
smooth running shop.
| File | Action |
| --- | --- |
| ARMY-TM-1-1500-204-23-8 Machine and Welding Shop Practices - Vol. 8.pdf | Download |